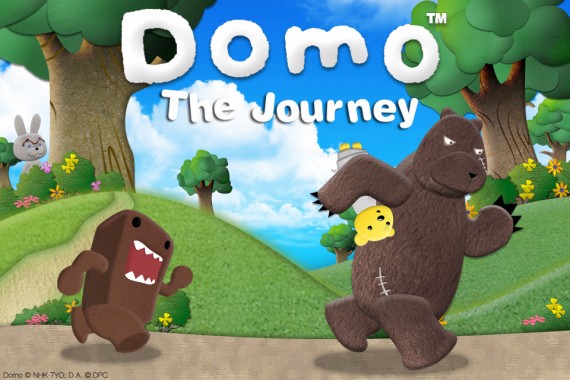 Welcome back for this week's iOS Game Suggestions. If you missed or are new to the suggestions, click on the link below and check what cool games you should be picking up for your iOS along with the introduction and disclaimer on how the suggestions work. (suggestions 1 has the disclaimer and how it all works)
MasterAbbott's iOS Game Suggestions
An average week on iTunes, but as always there certainly is a few must buy games this week in the FREE, and over 99c department. This week I've suggested a total of 15 great quality titles. Make sure you check them all especially Little Inferno, Video Game Quiz!, Pixel People, DOMO The Journey, Table Top Racing just to name a few.
Break down below :
9 – FREE Games
ZERO – $0.99c Games
6 – Over $0.99c Games
As always for this week's suggestions are all new titles that you should take a look at and consider spending your hard earned iTunes cash / time on.  Well the Free games just below certainly should all be given a shot as they won't cost you anything!
For The Cheapskates – FREE GAMES
MASTERABBOTT'S FREE GAME PICK OF THE WEEK!

Video Games Quiz ! – Price : FREE – Publisher – Undercoders (How many video games can you name? Find it out in the most comprehensive video games trivia game in the app store! Write the name of the pictured game to clear a level. Do it as fast as you can and earn high scores and Video Game Quiz coins! Stuck in a game you can't name? Use the coins to get valuable hints or ask your friends to aid you via Twitter or Facebook. Levels are unlocked progressively, but don't forget to clear them completely in order to get all the achievements and the highest ranking in the GameCenter leaderboard!) on iPad & iPhone. GET IT NOW FOR FREE

 
Pixel People – Price : FREE – Publisher –

Chillingo

 (Welcome to the world of Utopia where YOU create the city and the residents. Greet new clones to Utopia at the arrival centre, then find them a place in your new world. Splice genes of residents and combine their skills to discover new Pixel People to join your thriving city.

) runs on iPad & iPhone.

GET IT NOW FOR FREE

 
Baseball Superstars 2013 – Price : FREE – Publisher –

Gamevil

 (The anticipated Baseball Superstars series is back better than ever! Featured in crisp, clear HD- this is the best baseball game for mobile devices. With enhanced batting and pitching moves, players experience smart intuitive baseball as never before. New and improved My Pitcher and My Batter modes lets you experience best of both worlds as you train, challenge, and compete for first place. Grow from rookie to super star by tackling new quests and relationships with your fans and cohorts!

) runs on iPad & iPhone.

GET IT NOW FOR FREE

 
Epic Battle Dude – Price : FREE – Publisher –

HandyGames

 (Being king and living in a big castle may be all fun and games… until monsters invade your home, knock you out and kidnap your queen! This means war! Time to dust off sword, shield and chain mail and teach those pesky monsters a lesson!

) runs on iPad & iPhone.

GET IT NOW FOR FREE

 
Style Starlet – Price : FREE – Publisher –

Com2us

 (Act in plays, commercials, TV shows, talk shows, films… and soon you'll be a famous celebrity! From indie flicks to global blockbusters!Pick out your favorite clothes and accessories! Create your own style and become a fashionista!Create your own style and participate in Star Auditions to compete! Get a special gift when you win!

) runs on iPad & iPhone.

GET IT NOW FOR FREE

 

Sea Strike: Lord Of The Deep – Price : FREE – Publisher – Alawar Entertainment (It's time to take to the open sea and embark in epic battles as you captain a military submarine in Sea Strike: Lord of the Deep! You will see the battle from the view of your vessels periscope, and shoot down any and all enemies who come into view. Get ready to wage war from beneath the ocean's surface! Do you have what it takes to come out victorious in this amazingly intense action shooter?) on iPad & iPhone. GET IT NOW FOR FREE

 
Rescue Rush – Price : FREE – Publisher –

Red Robot Labs

 (Rescue Rush is the original and best location-based arcade game for iOS. See your real-world neighbourhood magically transformed into a vibrant cartoon universe! Wherever you are, the surrounding roads, parks, rivers, and shops become a playable arcade level – over a million unique playable squares around the world!

) runs on iPad & iPhone.

GET IT NOW FOR FREE

 

Hidden Objects: Mystery Seeker Story – Price : FREE – Publisher – TeamLava (Play the BEST Hidden Object game available on the App Store! Search for hundreds of hidden objects in dozens of beautifully rendered scenes. You've received a mysterious letter asking for your immediate return to the family estate. The reason? Your mother has gone missing! Using your keen detective skills, you must find the clues that will uncover the truth behind her disappearance as well as your mysterious family legacy…) on iPhone & iPad. GET IT NOW FOR FREE

 

Zuko Monsters – Price : FREE – Publisher – Goodbeans (It's time for a great new adventure! Explore an amazing world where you can capture over 30 incredible Zuko Monsters. Enter exciting battles where every move matters and train your monsters to evolve. Choose your favorite Monster Team and challenge your friends in the Battle Arena.) on iPhone & iPad. GET IT NOW FOR FREE
For The Bargain Hunters – 99c Games
NOTHING WORTH MENTIONING FOR 99c GAME THIS WEEK!
For The Millionaires – All games over $0.99
 

MasterAbbott's over 99c Pick Of The Week!

Little Inferno – Price : $5.49  – Publisher – Experimental Gameplay (Congratulations on your new Little Inferno Entertainment Fireplace! Throw your toys into your fire, and play with them as they burn. Stay warm in there. It's getting cold outside! Burn flaming logs, screaming robots, credit cards, batteries, exploding fish, unstable nuclear devices, and tiny galaxies. An adventure that takes place almost entirely in front of a fireplace – about looking up up up out of the chimney, and the cold world just on the other side of the wall.) runs on iPhone & iPad. BUY NOW

 

DOMO The Journey – Price : $1.99  – Publisher – Horse Feathers (Join the excitement with millions of other Domo fans! For the first time, Domo shuffles onto the iPhone in a classic style 2D platform game. In the purest of side scrolling adventure traditions, guide Domo through challenging zones complete with moving platforms, treacherous gaps, dangerous enemies and many more obstacles throughout The Journey.) runs on iPhone & iPad. BUY NOW

 
Wombi Treasures – a treasure hunt game for kids – Price : $1.99 – Publisher –

Wombi Apps

 (Treasure hunter Scouty needs your help! Hundreds of treasures are buried around the world just waiting to be discovered. Explore forgotten ruins, scorching deserts, and the deepest forests with Scouty to locate and dig up historical treasures. For help, you'll have maps, an airplane, and different archeological tools!

) runs on iPad.

BUY NOW

 
Word Crack – Price : $2.99 – Publisher –

Etermax

 (If you like Angry Words, you'll love Word Crack, a fast and fun word game to challenge your friends. Who will find the most words in two minutes? Word Crack is asynchronous and cross-platform. Play against your Facebook friends or against random users of any platform. Besides, there are unlimited simultaneous games!) runs iPad & iPhone. BUY NOW
 

Table Top Racing – Price : $2.99  – Publisher – Playrise Edge (From the co-creators of Sony's blockbuster PlayStation franchise 'WipEout' comes 'Table Top Racing', a brand new fast and furious combat racing game featuring console quality graphics and gameplay. 'Table Top Racing' pits all manner of crazy cars and automobiles against each other in a world of table top race tracks and oversized obstacles.) runs on iPhone & iPad. BUY NOW

 

Stratosphere: Multiplayer Defense – Price : $1.99  – Publisher – Pixile Studios. (Grab one side of an iPad and play as one of three unique teams, taking on your opponent with defensive towers and 12 different creatures that you can send to assault their gates.Miss the magic of playing board games with friends? Transform your touch screen into a realtime, interactive strategy game and challenge friends of any skill level. Stratosphere is easy to learn, but has many layers of strategy to master.) runs on iPhone & iPad. BUY NOW
There you have it folks, these games should keep you busy for quite some time, well till next week at least. I'll be back next week for another dose of iOS goodness, in the meantime if anyone would also like to suggest their own suggestions, please feel free to share them in the comments section below or in the iOS forum section on the site here.
Remember kids, Play Hard Or Don't Play At All!