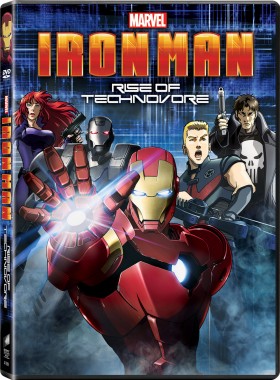 It looks like 'Iron Man 3' won't be the first and only Iron Man film of 2013, as Marvel Entertainment and Sony Pictures Home Entertainment have just revealed the release date of their feature-length animated film 'Iron Man: Rise of Technovore'.
Coming April 16th, the film will be hitting DVD and Blu-Ray formats. There are a few special features that have been identified: "Tale of Technovore", which looks at the animation and story development in the film, and "S.H.I.E.L.D: Protecting the Marvel Universe", which gives all-access insight into the history of the title organization throughout the comics as well as this film.
The two featurettes will be included on both the DVD and Blu-Ray formats, however the Blu-Ray edition will also include an exclusive interactive art gallery featuring Madhouse's concept art produced for the film.
The official synopsis reads:
Billionaire Tony Stark, in his Iron Man armor, prevents an attack from a mysterious new foe, but innocent bystanders are killed, including his best friend War Machine, Lt. Colonel James Rhodes.  Detained for questioning by S.H.I.E.L.D., Iron Man escapes, determined to find the mastermind behind the attack. Pursued by Black Widow and Hawkeye, Iron Man enlists the help of the ruthless vigilante The Punisher.  But can the Armored Avenger handle what he finds when he catches the person responsible and is forced to face his deadliest weapon, a biotechnology called Technovore that could wipe out all life on the planet?
The cast is reported to include Matthew Mercer (Resident Evil Damnation) as Iron Man and The Walking Dead's Norman Reedus as the Punisher.
Source: IGN