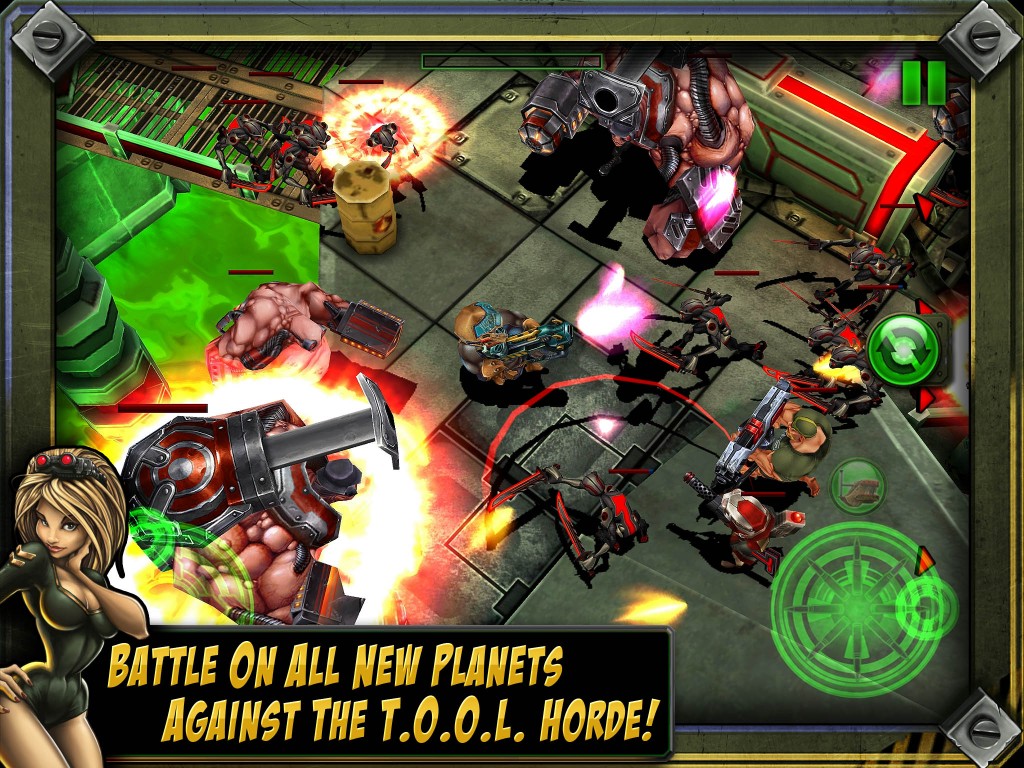 Gun Bros 2 – the sequel to Glu's hit iOS top-down shooter Gun Bros – will be releasing next week for the iOS and Mac platforms, simultaneously.
Coming to both the Mac and iOS App Stores on the same day, Gun Bros 2 will allow players across both platforms to play against each other in real-time. The dynamic top-down style gameplay returns, complete with new environments, massive boss fights, monstrous vehicles and over-the-top weaponry. Check out the first gameplay trailer below the article. Also, here is an official list of Gun Bros 2's features:
Real-Time Multiplayer – Battle the T.O.O.L. with your Game Center and Facebook friends across iPhone, iPod touch, iPad and the Mac.
Build the Brotherhood – Invite your bros to join your tour of duty with an improved Brotherhood system.
New Guns & MODS – Choose from a broad range of weapons including pistols, rocket launchers, laser weapons, and shotguns. Collect MODS and equip your weapon to gain secondary, tertiary and even quaternary fire modes. Players can even unleash multiple MODS at once!
Mega Boss Battles – Battle against the Pus Titan, Maullusk and The Broliminator!
Tanks – No tour of a hostile alien planet would be complete without a tank to mow down the locals. Hop into the Honey Badger tank and do some donuts on your enemy's face.
Free Armor – Every mission contains armor, but it's up to you to find it and grab it. Increase your HP and SPD with bold new styles conceived by the galaxy's top fashion designers and military experts.