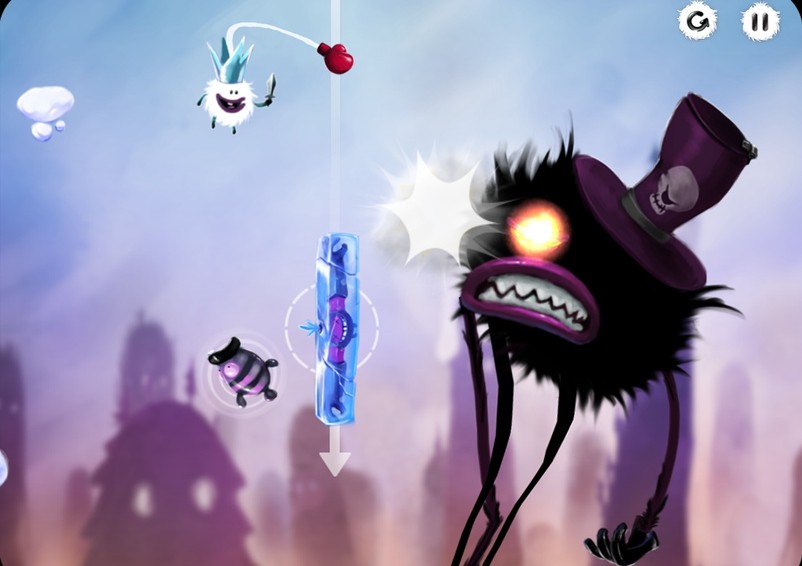 Two new Chillingo published titles have just hit the iOS App Store: Swing King, developed by Zoink!, and Catch The Ark, developed by the Australian indie team at Playside Studios.
Swing King has the player touch and drag the screen, flinging the King into action and through obstacles as he ventures to save his furry Kingdom. Make use of rubbery, elastic-like physics capabilities as the King bounces around, gathering stars and power-ups on his way to his trusty unicorn.
The game features a kingly 92 puzzles and boss battles (one of which can be seen in the header image and in the gallery below). You may also complete a set of challenges during the campaign that will unlock new hats to decorate your liege's crown. Swing King is available, right now, for $0.99 here on the App Store.
Catch The Ark is an addictive 'endless runner' title that chronicles the mad dash for survival of 3 oddball creatures, who were left behind as the Great Flood hit. The vibrant and animated journey has the group chasing down the Ark as a huge tidal wave approaches from behind.
You will have to avoid Krakens, sharks, dinosaurs and other monsters as you race down the rapids on your raft. Coins collected along the way can be put towards buying a hovercraft or other advantageous mode of transportation. Once missions are completed, you may check the Facebook-integrated leaderboards to compare with your friends. Catch The Ark is also available for the price of $0.99, right here on the App Store.
For a first look at the titles, check out our gallery below!