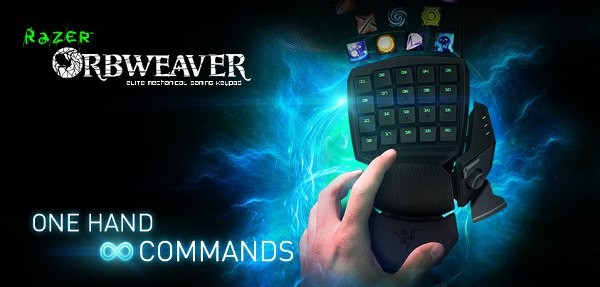 Moving forward from the Razer Nostromo, Razer has just released the new Orbweaver keypad that gives more control to just one hand, and as an added benefit can fit a multitude of sizes.  With 20 customizable keys and an eight-direction thumb pad players will be able to map exactly what and where they want everything.  Programmable to execute single key presses or macros, players will be able to accommodate the Orbweaver to any game and/or situation to get the upper-hand against any and all of their foes, human and AI alike.
What makes the Orbweaver so comfortable are the adjustable rests for the hand, thumb, and palm to get the perfect feel for players.  With only 50 g of force required to press each key, players can press keys with speed and ease and the thumb pad can be mapped for either movement or to switch between layouts for the keypad, creating an enormous number of combinations available.  Imagine being able to map all the keys and macros for one character and with the press of the thumb pad be ready with the keys and macros of another.  Plus, being enabled with Razer Synapse 2.0 allows to save settings to the cloud making mapping and remapping the keys from anywhere an easy task.
At 154 mm (~6 in) wide, 214 mm (~8 in.) long, 55 mm (~2 in.) high, and only weighing about 300 g (~2/3 lb.) the Orbweaver delivers tons of functionality in a moderate package.  Players can check out the gallery below for a better look at the Orbweaver and priced at US$129.99, interested players can buy it from the Razer website HERE.