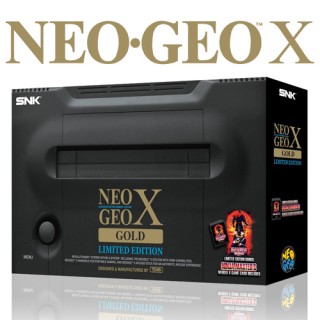 Funstock have announced that they will be releasing the NEOGEO X GOLD Limited Edition console exclusive their website throughout Australia and Europe as well as Russia, The Middle East and Africa.
The NEOGEO X GOLD Limited Edition console is available for purchase for $281.21 AUD and £175.00 pounds, a price that includes a large quantity of bonus content.
The limited edition version of the console comes packaged with 20 games already pre-loaded as well as a plethora of other NEOGEO goodies that are sure to please fans of SNK's device.
The limited edition pack includes the following extras:
The NEOGEO X Handheld – 4.3" LCD screen, stereo speakers, 16:9 and 4:3 display options
The NEOGEO X Station – houses NEOGEO X Handheld for charging and audio/video output capabilities via HDMI and composite cables (for a true "classic" experience)
One NEOGEO X Arcade Stick – Authentic arcade experience, for use with the NEOGEO X Station
3 COUNT BOUT
ART OF FIGHTING
ALPHA MISSION II
BASEBALL STARS II
CYBER LIP
FATAL FURY
FATAL FURY SPECIAL
THE KING OF FIGHTERS '95
KING OF THE MONSTERS
LAST RESORT
LEAGUE BOWLING
MAGICIAN LORD
METAL SLUG
MUTATION NATION
NAM 1975
PUZZLED
REAL BOUT – FATAL FURY SPECIAL
SAMURAI SHODOWN II
SUPER SIDEKICKS
WORLD HEROES PERFECT
Limited Edition Bonus: NINJA MASTER'S NEOGEO X Game Card
What do you think of this NEOGEO X GOLD Limited Edition from Funstock? Let us know in the comments section below.