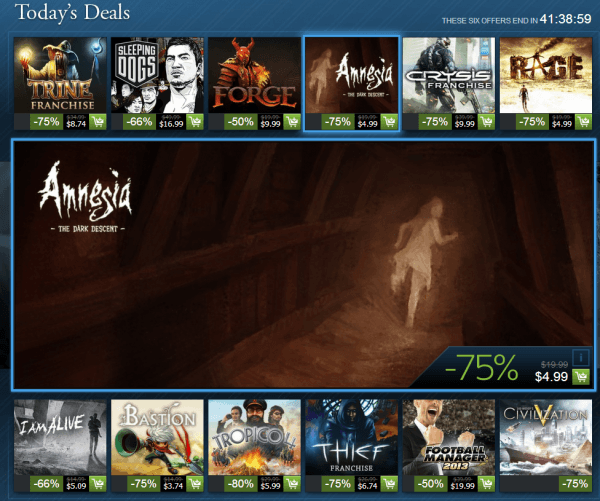 2013. Gotta get used to typing that!
Steam starting the year with a bang by announcing an encore weekend to the Steam Holiday Sale. The most popular titles are going on sale from 10am PST on Saturday,January 5th to 10am Monday, January 7th. Steam has the Trine franchise, Crysis franchise, Amnesia: The Dark Descent, and Rage for 75% off, Sleeping Dogs for 66% off and Forge for 50% off. I highly recommend picking up Trine, Amnesia, and Sleeping Dogs. Amnesia is considered to be one of the scariest games ever made. Trine on the other hand is one of those indie darlings that absolutely deserves a play through. Sleeping Dogs is a fantastic Hong Kong cop movie twist on the open world Grant Theft Auto type games that really captures the soul of Hong Kong well. Check out our review of Sleeping Dogs here.
Yesterday's Daily Deals are still applicable on Steam with Bastion, Civilization series, and Thief series for 75% off. Tropico 4 and most DLCs are 80% off. I Am Alive is 66% off and Football Manager 2013 is 50% off. If you've never played the Thief series, check it out. It is the inspiration to Dishonored and among one of the first stealth games to utilize the shadow system. Bastion is another must play and is at an unbeatable price. I also recommend Civilization IV and V for strategy game lovers who haven't yet purchased it. If you are purchasing Civilization V, Gods and Kings expansion is a must buy. I personally adore Tropico 4, its a good improvement over the Tropico 3, but if you didn't like the third one, 4 will not change your mind.
Greenman Gaming has posted a brand new 20% off voucher that can be used with almost every PC download title on their site. Just paste in GMG20-PJFEW-Y16HK when you are checking out. GMG also has Devil May Cry 4 on sale for 66% off and 2d shoot'em'up Sine Mora for 75% off. Super Meat Boy is 74% off and is a highly recommended buy if you enjoy platformers.
Amazon has their Editor's Choice of 2012 sale going on right now. Certain people who purchased games in December have received a 5$ off coupon to use during this sale. Check your email for an email from Amazon sent a few days after your purchase to see if you qualify. Particular deals of note include the Desert to the Sea Bundle for $9.99 (down to $4.99 with credit) that includes Bioshock 1 & 2 and Spec Ops The Line and the 2K Strategy Super Pack which includes Civilization V: GOTY, Civilization V: Gods and Kings, Civilization IV: The Complete Edition, and The Stronghold Collection for $19.99 (down to $14.99 with credit).
Gamersgate has Fallout New Vegas for 75% off at $4.99. No DLCs are included, but $4.99 is a fantastic price for an excellent game. Fallout New Vegas activates on Steam so you will be able to snag the DLCs for 75% off when it goes on sale on Steam.