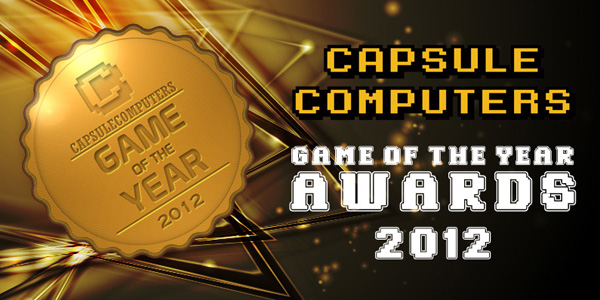 2012 came and went in what felt like a blink of an eye. Before December came to a close, we seen the year of the sequel, the rise of the indie, and digital interpretations of storytelling that captured our hearts and minds. After twelve months of blockbusters, it's time to celebrate the games that went for big and delivered in excellence in every way imaginable.  From the iOS to the Xbox 360, join us yet again as we revel in the year that was, and relive memories of what will go down as some of the greatest gems of a generation.
Welcome to Capsule Computer's 3rd Annual Game of the Year Awards!
Click on the pages below to and find out who wins, along with our editors' choice awards and special bonus feature GOTY Podcast!
Game of the Year
Best Sequel
Best Original IP
Best Xbox 360 Exclusive
Best Wii/Wii U Exclusive
Best Playstation 3 Exclusive
Best PC Game
Best 3DS Game
Best Vita Game
Best iOS Game
Most Anticipated
Editor's Choice
Bonus Features – GOTY Podcast