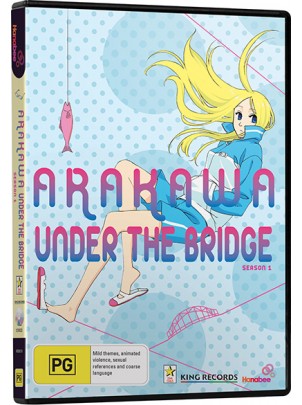 We have 1 copy of Toradora Season Two + OVA Boxset and Arakawa Under The Bridge on DVD to give away courtesy of Hanabee
"For One, Ko Ichinomiya, born and raised to never be in debt to anyone, upholds this idea very seriously. So when a girl named Nino, a self-proclaimed 'venusian', inexplicably rescues him he is left with the greatest debt of all."
TO WIN
For your chance to win simply answer the following question :
What makes these series so entertaining and why? (Also state which prize you are gunning for, however in the event all winners have selected the same prize, prizes will be distributed randomly)
Two lucky winners will be selected on December 16th, 2012. Good luck to you all!
**SPECIAL NOTE**
When you enter please leave a VALID email address so we can notify you if you are one of the lucky winners. You must be 15 years or older and an Australian Citizen living in Australia to enter.
Follow us on

Twitter |

FACEBOOK |

YouTube |

Google Plus |

RSS
Check out our other Competitions here