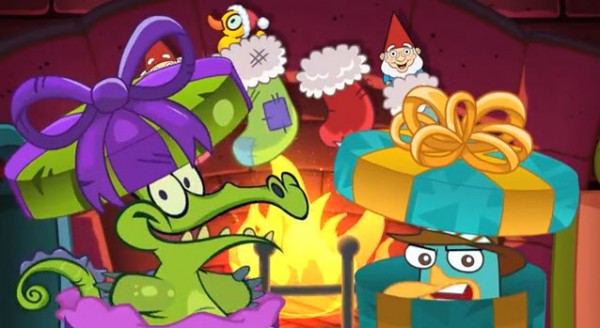 Fans of Where's My Water? (review here) and Where's My Perry? (review here) are being given a great treat for the holidays, a new free game featuring holiday-themed levels from our favourite shower obsessed alligator and semi-aquatic super sleuth, Swampy and Agent P! Bright lights and snowflakes will grace your mobile screens this festive season. Can you help Swampy take his next shower and get Perry to his next briefing?
As always you'll have to cut through dirt and guide water to Swampy's shower across six levels but make sure you keep an eye out for algae, tricks and traps. In Perry's levels, use water in all its different forms ­ ice, steam and liquid ­ to solve the puzzles and help Agent P get to headquarters. Remember… Even super-sleuths need help!
Where's My Holiday? is available for the iPhone, iPod touch, and iPad on the iTunes App Store and on Google Play. Make sure you check out the trailer for the game below! Happy Holidays!