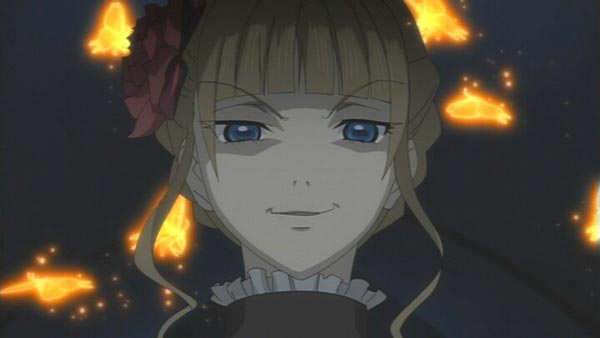 Fans of rather creepy anime will be pleased to hear that both volumes of Umineko: When They Cry are now available for purchase from NIS America and is currently shipping to anyone who purchased it already. As standard with NIS America releases, each volume comes with a special slipcase and a deluxe hardcover art book.
Both volumes can be purchased separately for $64 for the first volume and $40 for the second volume, or purchased together for the rather obvious price of $104. In case you are curious about the price discrepancy, the first volume of Umineko contains 18 episodes while the second volume only contains 8 episodes.
NIS America has provided a brief plot synopsis which can be found below:
The affluent Ushiromiya family patriarch, Kinzo, is on his deathbed, and his family has assembled at their private island to discuss the division of his estate. As they bicker over their father's immense inheritance, a typhoon closes in, trapping them on the island. They suddenly receive an eerie word of warning…and then, in the dead of night, the murders begin. One by one, family members are discovered murdered in bizarre and inhuman ways.

Some within the family turn to superstition, blaming it on a witch rumored to inhabit the island. But one of them—the young Battler Ushiromiya—refuses to accept the supernatural and vows to uncover the real killer behind the seemingly impossible slaughters. He soon finds himself confronted by the apparent witch, and enters into a life-or-death battle for the truth.