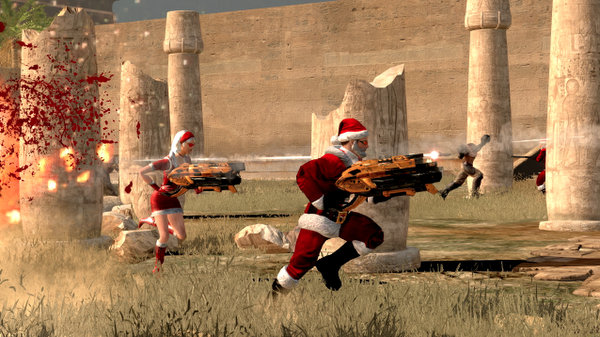 Croteam, Devolver Digital, and Mastertronic are axing the price of all Serious Sam items on the Xbox Live Arcade in celebration of the holidays. All Serious Sam games and DLC are 50% off their normal price. Serious Sam 3: BFE, Serious Sam 3: Jewel of the Nile DLC pack, and Serious Sam HD: The First and Second Encounters are now 600 Microsoft Points each.
"I'm all for peace on earth and good will toward men but this is ridiculous," said Fork Parker, noted humbug and CFO of Devolver Digital. "Looks like once again I'll be sipping unicorn eggnog from my platinum chalice and watch my potential wealth be slashed in half by the marketing department's penchant for charity." Capsule Computers wishes to congratulate Fork Parker for getting into the Christmas spirit so whole heartedly.
The Serious Sam Facebook will be also celebrating the holidays by giving away free downloads. Check it out here.