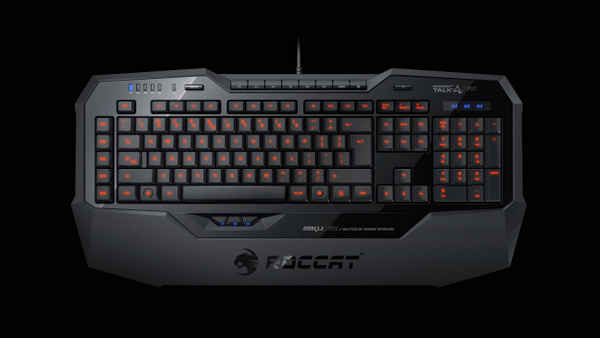 Blue a little too depressing for you? Or maybe you want a keyboard that can display a rainbow of colours to match your Roccat Kone Pure or XTD mouse. Roccat has released a new version of their Roccat Isku keyboard, the Isku FX.
The keyboard features off-white UV coated keys, 16.8 million possible colours in backlighting, 6 adjustable brightness levels, and the new updated Roccat Talk FX. The Roccat Talk FX continues the harmonious marriage of the Roccat Isku keyboard and the Roccat Kone mouse but now syncs the LED lighting to actions such as incoming damage or the start of a new round. All the features from the original Roccat Isku is maintained including medium height keys, tons of macro keys, and the Easy Aim button when used with a Roccat Kone [+], Pure, or XTD mouse.
Check out the new Roccat Isku FX Multicolor Gaming Keyboard here. Check out our review of the original Roccat Isku here.