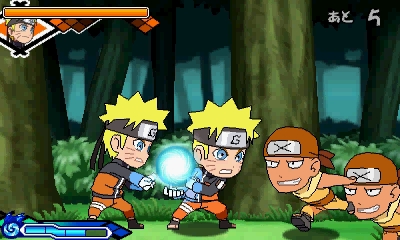 You may have heard of a certain Naruto game for the Nintendo 3DS that was made in Japan, called Naruto SD: Powerful Shippuden. Well while many fans in the West thought that there was no chance this game would ever make it overseas, it seems that Namco Bandai has chosen to prove all of those fans wrong.
Today the company revealed that they are releasing the title in North America under its new title, Naruto: Powerful Shippuden, in March exclusively for the Nintendo 3DS. The game will feature two separate stories to play where players will take control of either Naruto or Rock Lee as they finish missions that were featured in the original Rock Lee & His Ninja Pals anime.
You can check out some screenshots of the game below as well as the first English trailer for the title, both of which show the unique art style of this game that originally earned it its SD name in Japan.