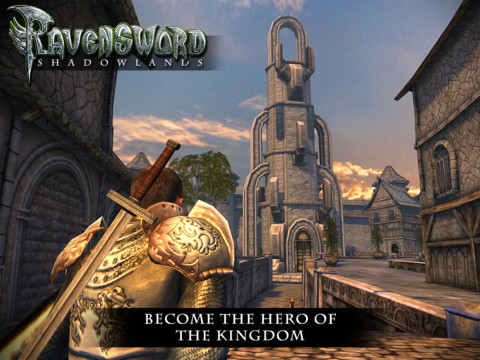 Welcome back for this week's iOS Game Suggestions. If you missed or are new to the suggestions, click on the link below and check what cool games you should be picking up for your iOS along with the introduction and disclaimer on how the suggestions work. (suggestions 1 has the disclaimer and how it all works)
MasterAbbott's iOS Game Suggestions
A great week on iTunes, as always it started slow and but ended with a bang! As always there certainly is a few must buy games this week in all departments, FREE, 99c and over 99c. This week i've suggested a total of 24 great quality titles. Make sure you check them all especially Ravensword: Shadowlands, Final Fantasy IV, Pudding Monsters, Cooking Mama Seasons Pro, Green Jelly, Night Whisper Lane, Might & Magic: Duel Champions just to name a few.
Break down below :
10 – FREE Games
6 – $0.99c Games
8 – Over $0.99c Games
As always for this week's suggestions are all new titles that you should take a look at and consider spending your hard earned iTunes cash / time on.  Well the Free games just below certainly should all be given a shot as they won't cost you anything!
For The Cheapskates – FREE GAMES
 

MASTERABBOTT'S FREE GAME PICK OF THE WEEK!

Might & Magic: Duel Of Champions – Price : FREE – Publisher – UBISOFT (Experience the time-tested factions of the Might & Magic universe in a completely new format. Discover a wealth of beautifully illustrated game cards, featuring all the well-known characters, spells and heroes from the Might & Magic series of games.) on iPad & iPhone. GET IT NOW FOR FREE

 
Green Jelly – Price : FREE – Publisher –

G5 Entertainment

 (Do you like candy? So does Green Jelly! Join this cute creature in a challenging adventure to curb his sweet tooth. Collecting candies is not as easy as you might think. Dangerous traps and tricky obstacles make it hairy yet entertaining. So proceed carefully and you'll be rewarded with tasty treats and Green Jelly's happy smile. With 60 amazing levels in three yummy locations, you'll test your quick reactions and wits at every step. Incredible graphics and animation plus realistic physics action will only make you crave for more. 

) runs on iPad & iPhone.

GET IT NOW FOR FREE

 
Where's My Holiday – Price : FREE – Publisher –

Disney Mobile

 (WHERE'S MY HOLIDAY FEATURES 12 EXCLUSIVE HOLIDAY THEMED LEVELS STARRING SWAMPY AND PERRY!Swampy and Perry need help – are you up to the challenge? SWAMPY'S STORY: Swampy is a little different than other alligators in the sewers and he loves to take showers! Cut through dirt and guide water to Swampy's shower across six challenging levels but keep an eye out for algae, tricks and traps! PERRY'S STORY: In Perry's levels, use water in all its different forms – ice, steam and liquid – to solve the puzzles and to help Agent P get to headquarters. Even super-sleuths need help!

) runs on iPad & iPhone.

GET IT NOW FOR FREE

 
Jetpack Jinx – Price : FREE – Publisher –

Bubblegum Interactive

 (BLAST OFF FOR ADVENTURE! Help Jetpack Jinx fly to space. The mischievous Jinx has crash landed on a mysterious planet… He's gotta get back to his Starship before his boss, the dastardly Lord Shadowbot finds out he's gone! Strap on your jetpack, blast off and make your way through insanely addictive levels of pure fun in the awesome new game from Bubble Gum Interactive.

) runs on iPad & iPhone.

GET IT NOW FOR FREE

 
Lost Treasures Of Infocom – Price : FREE – Publisher –

Activision

 (Enter the world of master storytellers. Before there were state-of-the-art consoles, tablets and PCs capable of amazing graphics, gamers had to use their imagination and wit, to solve intricate puzzles and progress through these text-only adventure gaming classics.

) runs on iPad & iPhone.

GET IT NOW FOR FREE

 
Runsanity – Price : FREE – Publisher –

Heliceum

 (3, 2, 1… GO! RunSanity, the first social and competitive runner with a unique ghost system arrives on iOS and it will be crazy! Are you ready to challenge your friends and to show them who's the best? It's super easy. 1) Pick a character, a track and a Facebook friend. 2) Realize your best score: jump and nudge obstacles, make combos to earn boost and destroy all in your path!. 3) Your race ghost is automatically sent to your friend who is going to play against your character. 4) Reach the top of world leaderboard and share your best scores

) runs on iPad & iPhone.

GET IT NOW FOR FREE

 

Sleigher – Price : FREE – Publisher – Bulkypix (DESTRUCTION! Is the aim of the game in this action-packed sleigh sim. Smash through mountain roads, ice lakes, ski resorts & towns as you guide your dogs using super easy controls. Gain bonuses for high-speed runs, air time or generally causing chaos along the way! Your rival skiers will not approve, but they are no match for your husky team! Can you show 'em who's boss before they get the better of you?) on iPad & iPhone. GET IT NOW FOR FREE

 

Nemo's Reef – Price : FREE – Publisher – Disney Mobile (DIVE IN AND JOIN NEMO ON HIS LATEST ADVENTURE. BUILD A BEAUTIFUL REEF, AND MAKE A HOME FOR YOUR FAVORITE FINDING NEMO CHARACTERS! More languages coming soon! Play Nemo's Reef in the following languages starting early 2013: French, German, Dutch, Italian and Spanish! Nemo and his dad, Marlin, set out to build the coolest reef in his class. Help Nemo create a best-in-class underwater retreat, and discover the secrets to building a permanent home for his friends!) on iPhone & iPad. GET IT NOW FOR FREE

 

RAD Soldiers – Price : FREE – Publisher – WARCHEST Limited (Assemble a squad of fearless soldiers and lead them into explosive, turn-based battles against your friends! Use the outrageous special abilities of your mighty mercs to turn the tide of battle and come up with hilarious new ways to leave your opponents eating your shrapnel/bullets/dust. Level up your squad as you play to master new abilities and use the spoils of war to unlock brand-new soldiers, weapons, and outfits.) on iPhone & iPad. GET IT NOW FOR FREE

 

Roaming Fortress – Price : FREE – Publisher – Brisk Mobile (CHOSEN NEW & NOTEWORTHY BY APPLE! Many years have passed since their mighty fortresses fell and the Manatalopian Knights were forced from their lands. Brutalized by the merciless Goblin Horde the Knights searched for hope in the borderlands of their fallen kingdom. Domesticating a herd of wild Burdenbeasts, the Knights realized they may have found the secret to reclaiming the lost Kingdom of Manatalopia. The time has come for you to command your own Roaming Fortress and bring the fight to the enemy!) on iPhone & iPad. GET IT NOW FOR FREE
For The Bargain Hunters – 99c Games
 

MasterAbbott's over 99c Pick Of The Week!

Pudding Monsters – Price : $0.99 – Publisher – ZeptoLab (Sticky, curious… and DETERMINED TO GET BIGGER! From the makers of Cut the Rope, Pudding Monsters is a deliciously addicting puzzle adventure with wacky characters and innovative stick-'em-together game-play. The Pudding Monsters are on a mission to save their friends from the cold-hearted fridge owner! Growing into an ULTIMATE MEGA MONSTER sounds like the most reliable plan. Off the table, out of the house, and into the city – swipe to stick the Pudding Monsters together and save their friends!) runs on iPad & iPhone. BUY NOW

Night Whisper Lane – Price : $0.99 – Publisher – EPX Games (Night Whisper Lane is a BRAND NEW survival horror game that many gamers refer to it as "Resident Evil Meets Final Fantasy" Can you escape the horrors of Night Whisper Lane and live to see another day. Night Whisper Lane is the 1st authentic Survival Horror gaming experience specifically designed for iOS that merges classic "Point and Click" gameplay with a "Turn-Based Battle System" to help you fend off whatever evil awaits you in this seemingly endless labyrinth.) runs on iPhone & iPad. BUY NOW

 

Super Mega Worm Vs Santa 2 – Price : $0.99 – Publisher – Deceased Pixel (Guess whose back? This is the sequel to the cult hit Super Mega Worm Vs Santa. The follow up to the epic saga between the great Mega Worm, Wojira and the evil robotic Mecha Santa. This new adventure takes Wojira right into the heart of Santa's toy factories and is filled with total chaos and destruction. Wojira has returned with 3 all new super powers and is ready to battle the forces of the North Pole once more.) runs on iPhone & iPad. BUY NOW

 

Badly Drawn Movies – Price : $0.99 – Publisher – Sporcle (Sharpy the narwhal is at it again. He has taken his love of drawing and his passion for movies to new heights in this new game from Sporcle. Badly Drawn Movies is the followup to the wildly popular game Badly Drawn Faces. Guess the movies drawn by Sharpy and earn points, fish, and the love and admiration of your friends.) runs on iPhone & iPad. BUY NOW

 

Cognitile

 – Price : $0.99 – Publisher –

Express Medi

a (Cognitile is a re-imagining of the puzzle/maze genre. On the tile-based game setting, you're given a preview of the level's various hazards at the start. The object of the game is to quickly memorize a safe route and draw a solution to the hidden treasure. Make a mistake and you could fall down a crumbling tile, find yourself poisoned or engulfed in flames, get crushed by a boulder or attacked by snakes (why'd it have to be snakes!) runs on iPhone & iPad.

BUY NOW

 

Roller Rally – Price : $0.99 – Publisher – Milky Tea (Race your favourite Milky Tea character to become the legend of Snake Pass, one of the most feared and deadly skate trails in the world! Starting at the tops of the snow and ice peaked mountains and descending at lightning speed to the sea level, skate your way through 15 checkpoints across three mystical environments. Overcome obstacles, collect coins and master jumps and spins to beat your opponents.) runs on iPhone & iPad. BUY NOW 
For The Millionaires – All games over $0.99
 

MasterAbbott's over 99c Pick Of The Week!

Ravensword: Shadowlands – Price : $7.49  – Publisher – Crescent Moon Games (From the award winning studio that brought you Ravensword: The Fallen King and Aralon: Sword and Shadow, comes RAVENSWORD: SHADOWLANDS. Ravensword brings unprecedented visuals to the role playing and adventure genre. Explore a vast and richly detailed world, gather powerful weapons, collect hundreds of items, increase your skills,
and follow a deep storyline to solve the mysteries of the Kingdom of Tyreas.) runs on iPhone & iPad. BUY NOW

 

Final Fantasy IV – Price : $15.99  – Publisher – Square Enix (The title first debuted in 1991 as the fourth installment in the FINAL FANTASY series. Wildly popular thanks to its unique characters and dramatic storylines, it went on to be ported to many different platforms. FINAL FANTASY IV was the first title to introduce the Active Time Battle (ATB) system, which has become synonymous with the series. It also saw the introduction of the Augment system, which enabled the transfer of abilities from other characters and gave players an edge in battles.) runs on iPhone & iPad. BUY NOW

 

Cooking Mama Seasons Pro – Price : $6.99  – Publisher – TAITO Corp (Popular the world over, the hit cooking action game "Cooking Mama" is now back with a generous second helping of fun! In addition to all the familiar favorites, this edition also includes a variety of great new dishes, with plenty more recipes in the works!

This cooking action game has been specially optimized for the iPhone, iPod touch, and iPad. With easy controls, Cooking Mama is great fun for kids, too!) runs on iPhone & iPad. BUY NOW

 

Sky Gamblers: Storm Raiders – Price : $4.99  – Publisher – Atypical Games (THIS IS THE ULTIMATE WWII AIR COMBAT GAME! You'll participate in visceral dogfights, protect cities and fleets, bomb enemy structures and even fly through tunnels. Everything is set up in accurately recreated real life locations like Pearl Harbor, Coast of Dover, Midway, Germany and France.) runs on iPhone & iPad. BUY NOW

 
Murder, She Wrote – Price : $3.99 – Publisher –

Big Fish Games

 (Solve murder mysteries with Jessica Fletcher, everyone's favorite author and super-sleuth! Piece together the clues and crack different cases in this exciting Hidden Object game! Based on the hit TV show, Murder, She Wrote™ will take you on a fun journey through multiple cases. Explore crime scenes and use Jessica's curiosity and wits to discover the true culprit. Solve perplexing puzzles and search for cleverly hidden items to catch the criminals!

) runs on iPad.

BUY NOW

 
Anomaly Korea – Price : $2.99 – Publisher –

Chillingo

 (The alien robots are back and this time they've got Korea in their sights. It's your job to lead a squad into fierce fire-fights and fend off the alien invasion. Plan your routes carefully and use armoured units and attacking powers to turn the tide of war against a horde of new enemy threats.) runs iPad & iPhone. BUY NOW
 

Monument Builders: Notre Dame de Paris HD – Price : $5.49  – Publisher – Microids. (The Notre Dame Cathedral is now more fun than ever! Time management in the Middle Ages! Participate in the construction of the iconic Notre Dame Cathedral in Paris while learning tons of anecdotes. Become the construction site manager of one of the world's most famous monuments: clear the site, build quarries, and destroy giant hams to feed your workers. Don't forget to build the gargoyles and the bells, otherwise the project will be delayed! And be careful, an army of criminals is on the prowl…) runs on iPhone & iPad. BUY NOW

 

Karateka – Price : $2.99  – Publisher – Karateka. (From PRINCE OF PERSIA creator Jordan Mechner, the original side-scrolling karate classic comes to the iPad and iPhone with stunning graphics and innovative gameplay. *IMPORTANT* Karateka requires iPhone 4S or newer, iPad 2 or newer, or iPod Touch (5th generation).) runs on iPhone & iPad. BUY NOW
There you have it folks, these games should keep you busy for quite some time, well till next week at least. I'll be back next week for another dose of iOS goodness, in the meantime if anyone would also like to suggest their own suggestions, please feel free to share them in the comments section below or in the iOS forum section on the site here.
Remember kids, Play Hard Or Don't Play At All!