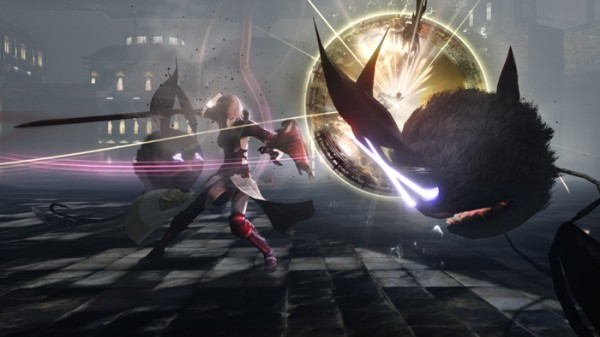 While all we officially know in the West for Lightning Returns: Final Fantasy XIII is from a trailer, the latest issue of Japanese magazine Famitsu contains quite a few details that were left out of that minimalistic trailer. As such, we've gathered together all of the information contained in the leak as provided by Game Nyarth.
First and most importantly, the new battle system is currently being called "Amazing ATB" though Square Enix has currently not settled on an official name for the system. In battle players will be able to perform various attacks which are mapped to the face buttons on the controller. As you defeat enemies in combat you will earn points to increase her available time as well as items that improve her equipment.
It also has been confirmed that Lightning will be the only playable character though according to the magazine, the new system makes this solo combat fast-paced and exciting. Enemies will appear in towns and about half of the game's enemies will be brand new.
Players will be able to move between continents on foot or by monorail in a new system called "open world" and apparently the world will be rather large. The magazine also lists that test players were able to clear the game in two to four days worth of game time and while it is possible to increase your time limit past the 13 day deadline, the method for doing so is still secret.
It is also worth noting that the ending will not change much depending on how long it takes you to finish the game, but certain events appear to be time-specific meaning it is possible to miss a number of side-events that can then be experienced in subsequent playthroughs.