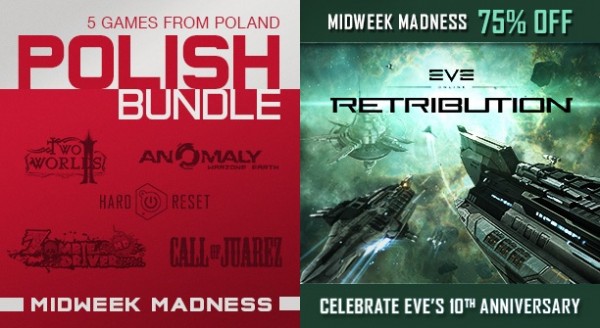 Frugal gamers unite! Here are the biggest digital download deals for this half of the week.
First up, we have Steam's Midweek Madness. The Polish Bundle puts together five games from Polish developers for one low price. Pick up reverse tower defense game Anomaly: Warzone Earth, Western FPS Call of Juarez, old school RPS Hard Reset Extended Edition, action RPG Two Worlds II, and action game Zombie Driver HD for $19.99 USD. Anomaly: Warzone Earth has been on several indie bundles to date and has been well received by the public. Hard Reset and Two Worlds II tend to go on sale during Steam sales but are solid but not earth shattering picks. I recommend purchasing the bundle if you are interested in at least three of the games, if not, the Steam winter sale is around the corner. Check out the bundle here. Next, Steam is celebrating EVE Online's 10th anniversary with 75% off EVE Online. This includes the full game and your first 30 days of subscription for $5.00 USD. Check it out here. Both Midweek Madness deals end on Thursday, November 6th at 4pm PST.
Steam's Big Picture Celebration Sale is still going on until December 10th at 10 AM. Some notable titles includes Left 4 Dead 1 &2, Deadlight, Counter Strike GO, Mark of the Ninja, and Portal 2. The Source engine based games, Magicka,  are at their usual 75% off and CS:GO is at the same %50 off as the Fall Sale. My personal picks in this sale include the Valve games, Alan Wake, Braid, Magicka, Limbo, and Orcs Must Die 2. Check out the sale here.
Amazon has knocked off Kalypso Media's 2.5D shoot 'em up Sine Mora to $3.39. This comes as a Steam key and is only available to buyers with a US billing address. Buy it here. For those without US addresses, Sine Mora is also on sale for the same price at the Steam Big Pictures Sale above. Check out our review of Sine Mora here.
Also for American buyers, X-Blades is $0.99 at GameFly here. For $0.99, you can't go wrong.
Blazing Griffin is celebrating their Kickstarter project for The Ship 2 by knocking the price of The Ship: Murder Party to $10. Each purchase comes with five Steam keys to share with your friends and family. I recall the original The Ship mod, although griefers were absolutely annoying, once a good group of players who were serious about playing by the rules got going, it made for some epic evenings. Check out the deal here.
A ton of Paradox Interactive games are on sale at GamersGate. Big titles such as Victoria II, Mount & Blade Collection, Cities in Motion, and King Arthur Complete Collection are on sale. I'm frankly quite surprised that Crusader Kings II isn't on sale too. These games are a mix of Steam and DRM free downloads. I recommend the Mount & Blade collection for some great hack 'n slash action and includes the excellent Napoleonic Wars DLC. Victoria II is a popular recommendation for fans of grand strategy games. North American buyers can check out the sales titles here, UK buyers can find prices in pounds here.