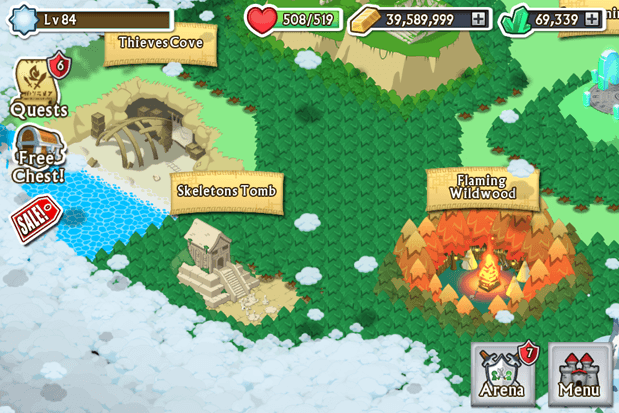 GREE have just announced the release of a new, free-to-play title, exclusively for iOS devices. The game is called Knights & Dragons: Rise Of The Dark Prince and is a collaboration between GREE and IUGO Mobile Entertainment Inc., based in Vancouver.
Knights & Dragons: Rise Of The Dark Prince is an adventure/RPG that has players embark on a medieval journey to this once peaceful kingdom, which has been overtaken by the dastardly Dark Prince and his evil army. On your quest to save your beloved land and return justice to the state, you will battle treacherous monsters and recruit the best knights from friends' kingdoms, all the while unlocking additional heroes to join your court and collect valuable materials to craft new armor as you prove the victor. Knights can also combine and enhance their armory to weld stronger sets and build an ultimate coat of arms, further cementing their true valor.
Eiji Araki, SVP, Social Games, GREE International, Inc. said "In Knights & Dragons, we set out to develop a fun and accessible RPG experience that delivers all the social, strategic and immersive elements that mobile social gamers love. We also wanted to bring a deeper storyline by introducing an entertaining plot, witty dialogue, playful characters and high-production art, as well as a continuous dose of new content, features and events to keep the fun fresh. We've worked hard to make this title more than a game, but an ongoing entertaining experience."
As alluded to by Mr. Araki, a deep storyline with fun adventure role-playing elements is a focus for GREE, and allows you to explore magical lands, engage in hundreds of quests, build and design a prosperous and wonderous castle, and customize characters with unique and powerful armor. Knights & Dragons is also packed full of robust social features, including battling friends in weekly player-versus-player tournaments, hiring friends' knights to use in battle, accessing leaderboards, and viewing players' profiles and adding them as friends. There are also in-game achievements to reach.
Knights & Dragons: Rise Of The Dark Prince can be downloaded from the App Store right now, for FREE. View the gallery below for the first few official screenshots.