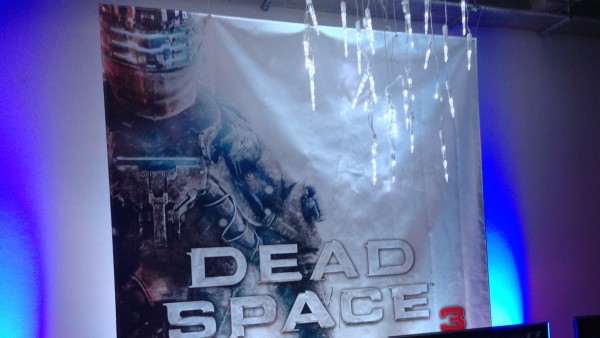 On the 11th of December, here in Sydney, Australia, we game journalists were treated to a special event organised to preview and celebrate the coming year of releases from EA.
Several studios in Luxe Studios were rented out, for interview spaces and the main floor. Fellow Capsule Computers editor Jessica Barabas-Bui and I, although arriving at different times, initially made the mistake of walking up the stairs as we followed the sounds of chatter and conversation. But it was painfully clear that we were walking to the wrong room as everyone was dressed in formal wear, with champaign glasses being handed out at the entrance. "Yeah, this isn't for us", I said to myself.
After making our way back downstairs to find the correct studio, the team was still preparing the space. After a very short wait, everybody started to file in. First impressions were that EA did a great job transforming the space. Aside from the game set-ups, there was a hot-dog stand, free drinks, a photo booth (with a SimCity backdrop) and a massage station! Oh, and beanbag chairs…swag! Games available for hands-on time were SimCity, Fuse, Dead Space 3 and Crysis 3. Army Of Two: Devil's Cartel was also going to be displayed in a hands-off play-through  however we missed it (probably occurred during our interviews).
We had to give SimCity a go first; Jess was super excited to play it, and her hands-on preview should be up shortly, so keep an eye out for that. After that, EA Australia's Community Manager Jiggsy gave a nice welcome speech, inviting us to partake in the festivities and also tweet using the hash-tag #EAShowcase during the event. We then meandered over to some Fuse multiplayer action (on which there is an NDA until the 18th, so we're keeping hush). After sucking at Fuse, I picked up the demo of the game nearest to me, Dead Space 3.
Unfortunately, the demo had been left at the half-way point, and our interviews got bumped up, so in the end I didn't get time to go back and play through the demo from the beginning. However, my impressions of the second half will be up shortly. Which leads us to the aforementioned interviews. Jess got the pleasure of interviewing the Creative Director of Fuse, Brian Allgeier (who I also met briefly and seems like a really nice guy), while I had the honor of interviewing Mike Read and Jason Haber, Producers of Crysis 3 and SimCity respectively. The Fuse interview will be up in the coming days, while you can read the Crysis 3 and SimCity ones right now.
After our successful talks, we went back to gaming. All that was left was Crysis 3. Crysis 3 had 4 PC stations set up for a single-player demo, and 10 Xbox 360 stations set up for system linked multiplayer. Now, I am a noob when it comes to using a keyboard and mouse…I admit it. So I absolutely bombed at Crysis 3's single-player demo. So much so that I can't even give a hands-on about it; that's how quickly I died. The multiplayer, however, was more up my alley. Both Jess and I jumped into Crysis 3's Hunter mode, my impressions of which can be found here. But just for the record…I didn't suck this time. Before the event was coming to a close, I was coming overall 2nd. Probably a fluke…
Anyway, the event was ending and I thought I'd get some pictures in, which I used in the article. I'm sorry for the quality (I used my iPhone). I of course had to cut out the screens. However, we did also get some (more) professionally taken pics sent to us, which you can view in the gallery below. All in all, a very cool night. Oh, and we got free t-shirts! I felt guilty standing at the table, sorting through all the sizes…and I STILL mistakenly took an XL-sized SimCity shirt! EA, hook me up with a M! 2013 looks to be a good year for EA.