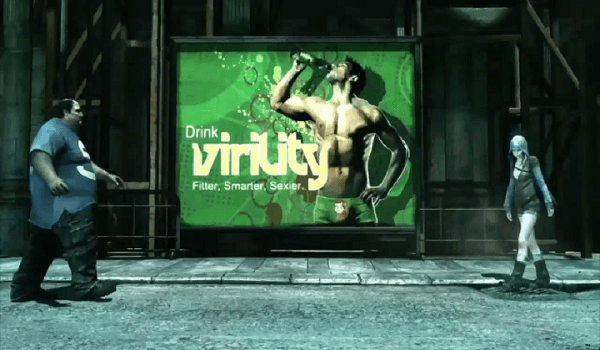 If you can't get enough of the new DmC Devil May Cry (I know I can't)  and you want something to temporarily quench your thirst for all things Dante, then this new app by Capcom is sure to keep you sane. The Eye of Dante app (downloadable for free right now via iTunes) allows players to join the famous Order from the full game. This organisation recognises the demon world for what it is and are not fooled by evil's various illusions stating otherwise. Now with the App (and your handy phone camera), you too can see real-life objects and signs for what they really are; devices of demon-kind.
The Eye of Dante rewards players for their hard efforts with wallpapers, ring tones and all important Red Orbs (currency) for use in the full game. Gamers are also given quests and told to pursue specific goals for even greater unknown rewards. Developed in collaboration with Aurasma, the Eye of Dante is available now totally free off the Google and Apple iTunes stores, with the full game of DmC Devil May Cry being released on January 15th for Playstation 3 and Xbox 360.
What we've also got step by step instructions on how to join in on all the fun using The Eye Of Dante App.  See below for image and instructions.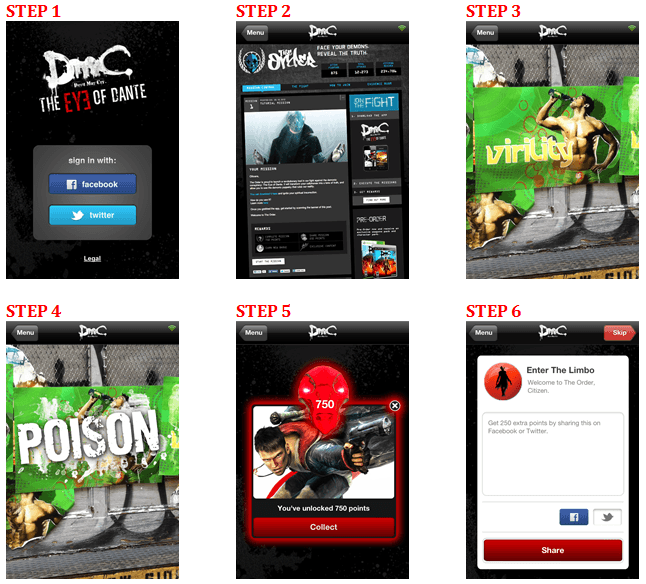 STEP 1
Login with either Facebook or Twitter to create your Eye of Dante profile.
STEP 2
Visit 'Mission Control' on TheOrderBlog.net to check for your latest assignments and get hints on the triggers.
STEP 3
Use the Eye of Dante to locate the specific trigger in your environment. Triggers may include anything from text blocks or images, to public signage and logos.
STEP 4
The Eye of Dante will expose the demonic propaganda by revealing the truth and unearthing subliminal messages.
STEP 5
Discover your achievements, collect points and increase your ranking.
STEP 6
Share your achievements on Facebook or Twitter.