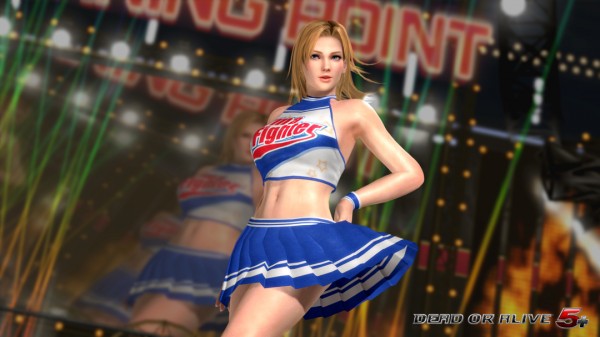 Well… hold you're horses. Tecmo Koei in Japan has only announced the following information so don't get your hopes up. Now, Tecmo Koei in Japan has announced a Collector's Edition of Dead or Alive 5 Plus for Japan which will cost 9,240 yen compared to a regular copy of the game for 6,090 yen.
Now this Collector's Edition will include a code to download 12 "Paradise Costumes" which are described by Famitsu as sexy costumes with the "I'm a Fighter" logo on them, as you can see above, a soundtrack for the game, a beginner's guide to gravure as well as a code that will allow you to download something described as an extreme gravure movie. Also included in this Collector's Edition is a skin for the game, which may be the one pictured below. Plus, all launch copies of the game will include a free code that unlocks cheerleader costumes for Tina, Kasumi and Ayane.
Famitsu also notes that the costumes will be released as downloadable content sometime after Dead or Alive 5 Plus is released in Japan, though no date was given. Currently Tecmo Koei in North America has not said anything about these bonuses, though we have reached out to them for comment.
Update: New larger resolution images added.