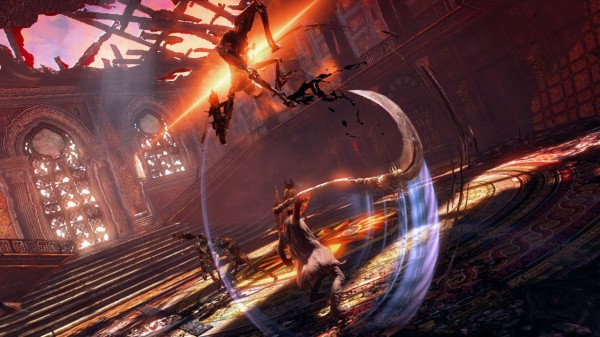 DmC Devil May Cry is set to release on consoles early next year, but it will also see a PC release as well on January 25th. Today, the full specs were released for the game, and it looks like DmC will be pushing the limits of your machine.
Below you find find all of the details on this PC release, straight from Capcom:
Developed by QLOC S.A. for Windows PC, DmC Devil May Cry will include full AMD support, reinforcing the stunning visuals of the game. The title will feature both AMD Eyefinity multi display technology and AMD CrossFire™ technology, allowing gamers to harness the power of two or more graphics cards to dramatically increase the game's performance. Senior Capcom Producer on DmC Devil May Cry, Alex Jones, commented"DmC Devil May Cry's performance on AMD is amazing, it pumps our already incredible visuals and effects to the next level, making it an even more immersive and intense experience."
The PC version will be compatible with both keyboard and mouse, Xbox 360® controller and all third party direct input controllers. Players can enjoy the game at 60 fps or even higher with no maximum limitation, creating a stunning visual experience for PC gamers.
Gamers that download DmC Devil May Cry via Steam will be able to take full advantage of features such as Cloud saving, achievements, friends support and leaderboards.
The recommended and minimum specs for DmC Devil May Cry on PC are as follows:
Minimum System Requirements:
OS: Windows Vista®/XP, Windows 7, Windows 8
Processor: AMD Athlon™ X2 2.8 Ghz or better,
Intel® Core™2 Duo 2.4 Ghz or better
Memory: 2 GB RAM
Hard Disk Space: 8 GB free hard drive space
Video Card: ATI Radeon™ HD 3850 or better,
NVIDIA® GeForce® 8800GTS or better
DirectX®: 9.0c or greater
Sound: Standard audio device
Recommended System Requirements:
OS: Windows Vista®/XP, Windows 7, Windows 8
Processor: AMD Phenom™ II X4 3 Ghz or better,
Intel® Core™2 Quad 2.7 Ghz or better
Memory: 4 GB RAM
Hard Disk Space: 9 GB free hard drive space
Video Card: AMD Radeon™ HD 6950 or better
DirectX®: 9.0c or greater
Sound: Standard audio device