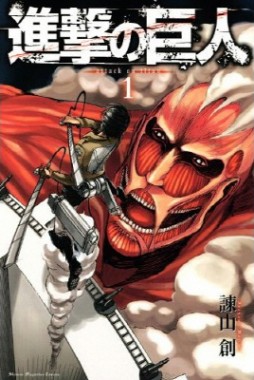 Popular Shonen Magazine manga Attack on Titan was accidentally revealed to be getting an anime adaptation in Spring 2013 through Kodansha's official Shonen Magazine website.
The information appeared and was soon removed. Judging by the extent of the details for the series, it is undoubtedly truly happening and this was simply an accidental leak.
The Attack on Titan manga began in Shonen Magazine in 2009 and became a sleeper hit, becoming a sales dynamo for Kodansha, so much so that they decided to release the manga internationally in English in the West. It doesn't seem to be much of stretch to think that it will be getting an adaptation considering how popular this series is. On top of all that Kodansha did announce back in 2011 that there would be a live-action film of the manga in 2013.
Attack on Titan focuses on a world in which humans struggle to survive after giant man-eating titans take over and eliminate more than half the worlds population.
What do you think of Attack on Titan getting an anime adaptation? Let us know in the comments section.
Source: Otakomu