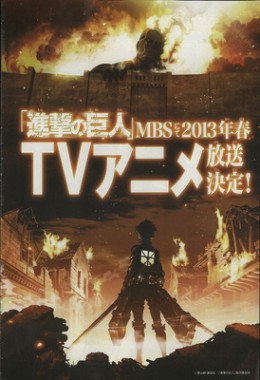 The anime adaptation of the popular Attack on Titan manga which was accidentally announced yesterday, has now been officially confirmed along with cast and staff details. The Attack on Titan anime is set to premiere in Spring 2013 with production being handled by Wit Studio in collaboration with Production I.G.
In terms of casting, it has been announced that Yuuki Kaji will play the role of protagonist Eren, Yui Ishikawa will play Mikasa and Marina Inoue will play Armin. The series will be directed by Tetsuo Araki, famous for directing the Death Note anime series.
Attack on Titan focuses on a world in which man-eating giant titans have killed more than half the worlds population causing humans to isolate themselves within walled cities. The first promotional artwork for the anime was also revealed and can be seen to the right.
What do you think of these new details on the Attack on Titan anime series? Let us know your thoughts in the comments section below.