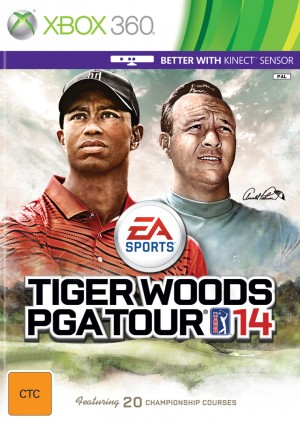 EA Sports have revealed that, for the first time ever, golfing legend Arnold Palmer will be gracing the covers of Tiger Woods PGA Tour 14.
"The King" had a career that spanned an astounding five decades, and has won 92 tournaments and championships since his first in 1955. 62 of those victories came on the PGA tour. Among the many accomplishments Palmer has achieved, his most major and impressive include four Masters, one U.S. Open and two Open Championship wins. There is also a connection between the icon and Tiger Woods himself, as Tiger has won the Arnold Palmer invitational a total of 7 times, with the most recent victory being in 2012.
The photo being used in the box art image, which can be seen on the right, was taken during the 1960s; Palmer's most prolific years. Of course, Palmer will be featured as a playable character, but this is not the first time that he has been selectable. He was also playable in Tiger Woods PGA Tour 05 and 06. And joining these two legends are four of the youngest, brightest rising stars from the LPGA and PGA Tour, and newcomers to the franchise: Keegan Bradley, Bud Cauley, Stacy Lewis and Lexi Thompson. The quartet round out the field of 25+ golfers available in this next instalment of the popular golfing series.
For future updates on Tiger Woods PGA Tour 14, stay glued to Capsule Computers, and visit the official EA Sports website.