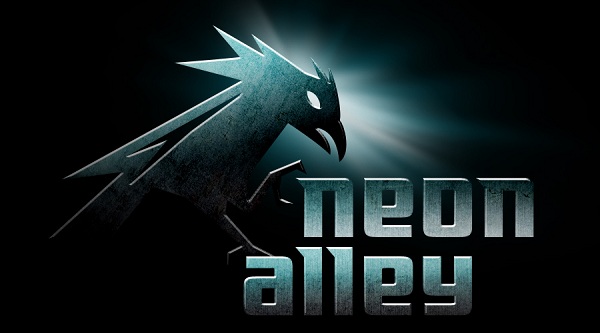 Neon Alley
Provider: Viz Media
Price: $6.99 monthly – Free Trial Here
While there has been a few streaming services launched over the last few years which have made watching anime whenever you feel like easier than ever there has been one flaw in most of these services. That flaw is the fact that most of these services only provide subtitled anime, making actual English dubbed series a rarity on television outside of Netflix.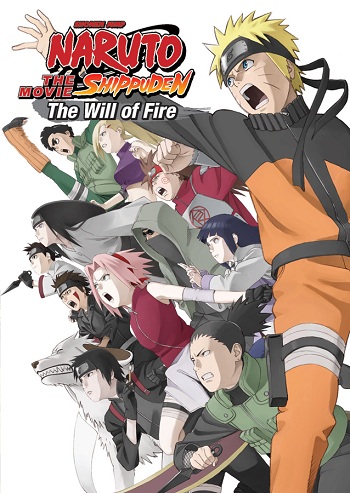 However, a little over a month ago Viz Media stepped into the streaming game by launching a new service that has made it possible for subscribers to watch an anime series simply by turning on their PlayStation 3 and accessing the app. Of course the company does require a monthly payment of $6.99 to use the service, though anime fans are able to get a taste of what Neon Alley can provide with a free trial.
So what does Neon Alley provide you ask? Well first it is worth mentioning that Neon Alley is not like other services such as Netflix or Crunchyroll that allow you to pull up a series at will and watch it whenever you feel like. Instead Neon Alley is set up like a basic television channel where viewers are presented with a pre-set line-up of anime episodes that cannot be modified in anyway.
This is unfortunately a drawback with the system as a whole thanks to the fact that the app is as bare boned as you can get. In fact the only ability the user has is to pull up a guide showing what episodes of a series are next while small descriptions of an episode are provided which each listing. This is a nice feature on its own thanks to the fact that viewers can check when the next episode of their favorite show will come online but planning is a necessity.
Thanks to the fact that Neon Alley is set up like a television channel, there are no options to pause, rewind or fast forward through an episode you've already seen or don't care for, nor is there an option to possibly record an episode in-case you are unable to view it. If that is the case, then your only option is to keep an eye on the schedule, which can also be viewed on Neon Alley's website, and aim for the next time that episode will be aired.
Now what about the anime series themselves? Viz Media has provided a classic line-up of shows that are not only licensed by themselves, but also a few series from companies such as FUNimation and Aniplex. There are a large number of classic shows to be seen on Neon Alley such as Naruto and Naruto Shippuden, One Piece, Inuyasha, Kekkaishi and a few others all presented in either SD or HD quality depending on when the episode was created.
Outside of these older classic shows, Viz is also airing a number of brand new shows that are being shown for the very first time in English, often far ahead of the physical English release of the anime. These series include the widely popular Tiger & Bunny, Blue Exorcist, Inuyasha the Final Act and Nura: Rise of the Yokai Clan and new episodes of Naruto Shippuden. Each of these new series are given a new episode once a week, though older episodes do replay throughout the week as mentioned before and are presented in HD quality.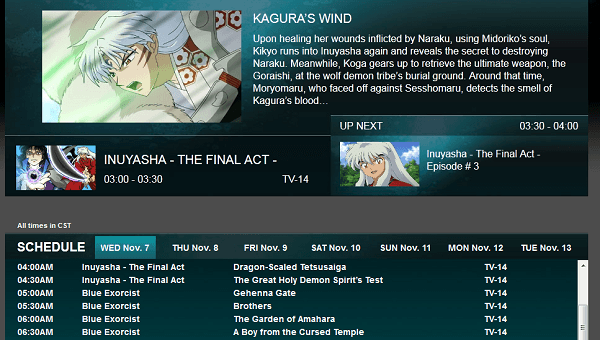 For many anime fans this may be enough of a reason to subscribe to a series, especially when Tiger & Bunny lends itself well to being translated into English, though some may be disappointed with the English voice actor chosen for Kotetsu, and fans have been desperate to see the ending to Inuyasha for many years. However there are also a number of movies being shown on Neon Alley, with roughly two a day. These movies often revolve around an anime such as Naruto or Bleach, but last week the channel presented the first showing of Beserk: The Egg of the King and also a number of live-action Asian movies.
What makes all of these anime and anime movies great is the fact that they are all presented in full English which is already a major plus but also, whenever possible in crisp HD. Now it is worth noting that your presentation may vary slightly depending on your internet connectivity, so people using the PlayStation 3 wirelessly connected to the internet may experience lesser video quality because of this.
It is also worth noting that, considering most anime episodes last roughly 25 minutes out of a half hour programming section there are actually commercials present in Neon Alley. Ironically, these commercials aren't bad as they often show off what shows will be shown later in the day, a new premiere that will be happening in a few days or various physical releases from Viz Media's manga section. Unfortunately mixed in with these are some standard commercials as well so don't expect everything shown to always be anime/manga themed.
Now while some people may be worried that the series' line-up panders mostly to fans of the shonen genre, that is unfortunately a bit true as most of the shows presented are of said genre, but there are a few series which expand beyond shonen shows such as Tiger & Bunny, Vampire Knight and then soon to premiere Lagrange.
With a number of shows premiering in the future and Viz Media acquiring licenses from Japan such as K, Neon Alley could easily be worth the minimal price of $6.99 as it offers a unique service and while there are a number of small issues that hold it back from being something an anime fan should subscribe to, it is certainly a great way to check out various series in English long before they are meant to be released in stores.  While the unique television channel set-up does have a number of limitations such as viewer freedom, its uniqueness helps set it apart as something that harkens back to older days when anime lovers could tune into a channel and watch a set of shows with only minimal commercial interruption.