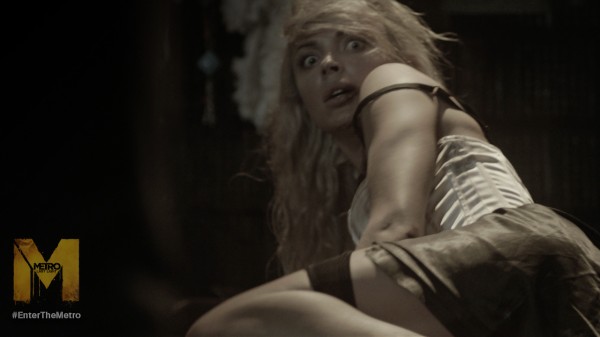 THQ have launched the second instalment of the 'Survivors' series of videos, which follow specific characters from the Metro: Last Light promotional short film Enter The Metro, which we were treated to earlier this year. This second video follows 'The Model'; a prototypical socialite who quickly finds that celebrity no longer means anything in this now wasteland of a home:
'Spotted by a modeling scout on a Moscow street at the age of 15, she found herself to be a hot commodity, making her first million with only 3 years in the industry. But she became demanding; she knew she was the most sought after model and she used that knowledge to get what she wanted. But it didn't last. Her agency dropped her, and she squandered her wealth. Marrying an extremely influential man with a cruel reputation, she found someone who could provide for her the lavish lifestyle she demanded.
However, when disaster struck and the missiles were about to be launched, she was whisked away into the Metro, separated from him as he was stationed at a bunker on the outskirts of Moscow. Inside that station, her status meant nothing…and there was no sympathy to be had for this Princess who now had to look after herself for once. When hunger and fear overtook pride, she found herself forced to sell the only asset she valued – her own body. More and more often, she thought of her sisters and her mother, all of the women of her family now alive only in her memory…and it gave her the strength to survive another day.'
The video is available to watch directly below. They fled to the refuge of the Metro and escaped Armageddon. Now beneath the toxic wastelands, a lucky few adapt to survive in this new and inhospitable world, an unrelenting purgatory. When it's your time to Enter The Metro, how will you survive?