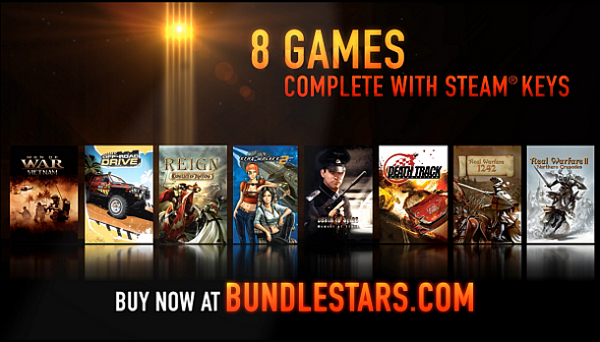 Bundle Stars has finally gotten their website up and to kick off they have a pretty sweet launch deal they're calling the Dynamite Bundle.  Featuring 8 games total for more than 95% off RRP, with games running a nice selection of action and strategy across genres in the past, present, and future.  Even better the games are all equipped with Steam keys, so that players can download the games from there.
The games included on this deal are:
Men of War: Vietnam 
Off-Road Drive  
Reign: Conflict of Nations  
Death to Spies: Moment of Truth  
Death Track: Resurrection 
Star Wolves 2 
Real Warfare 1242 
Real Warfare 2: Northern Crusades
Though it should be noted that while that final title, Real Warfare 2: Northern Crusades, is indeed included with the deal purchasers have one of two ways to unlock it, whether the Free Unlock App via Facebook or waiting until December for it to unlock.
Players can see a little bit of each game in the bundle from the trailer embedded below and those interested in downloading the bundle can do so for US$6.68 HERE, but don't be discouraged if tapped out from Black Friday and Cyber Monday, as this deal is going on until December 19th, 2012.