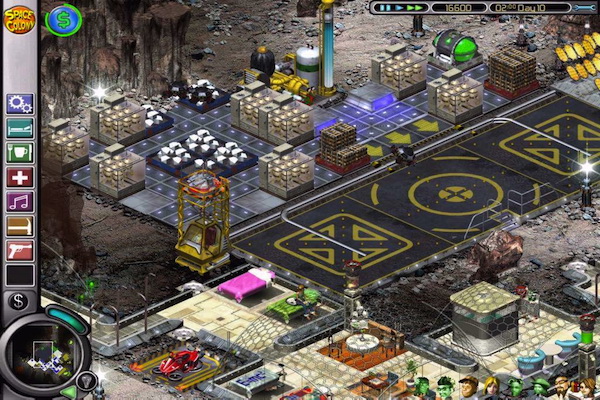 Firefly studios sci-fi strategy game Space Colony is currently undergoing a HD makeover on the way to it being re-released this November. Originally released in 2003 to favourable acclaim, it allows the player to take control over a group of 20 colonists as they attempt to colonize various planets, and then hold them whilst under alien attack. At the same time you also have to manage your colonist's well being, with everything from their levels of hunger to their mental state needing to be looked after. Don't think this is merely the Sims in space though, as you have multiple structures, weapons, aliens and strategy mechanics which you will have to employ in order to achieve victory.
In a similar fashion to Firefly Studios other game Stronghold, the player can choose either a 'Military path' or a 'Civilian path'. With one leading you down a road of lasers and death, while the other results in you building intergalactic golf courses (no joke). Space Colony is also fondly remembered for the colonists themselves, as each colonist has their own personality, needs and abilities. Also who wouldn't want to control a colonist named Stig Svensson who is a walking Norwegian ex-biker behemoth?
As well as the game receiving new HD textures as part of the remastering, the field of view has also been increased, allowing players to see multiple situations without having to scroll around the map. The aspect ratio is also being upgraded from the previous cap of 1280×1024 to 2560×1600.
The game is set to be released digitally on the 8th of November, and will be available from Amazon, GoG, Get Games, and other major retailers.
*Please note the image is not representative of the final game*