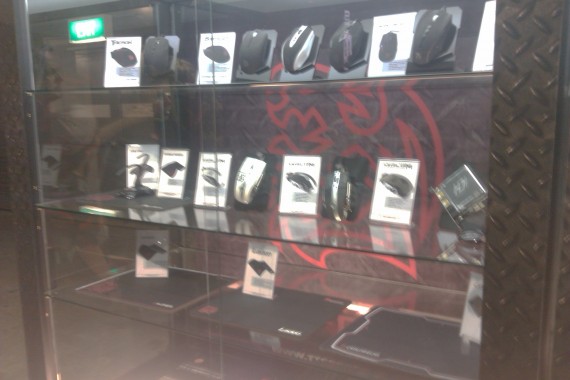 Tt eSports focuses on PC gaming, with a range of keyboards and mouses to suit any need for the PC gamer, amateur or professional. Headsets are also one of their products, providing excellent sound quality for any PC gamer out there. At the EB Expo, Capsule Computers got a chance to check out their booth and their products.
Tt eSports is bringing over a range of keyboards to suit any gamer needs. We were shown a range of keyboards. The one keyboard that stood out for me was the Knuckler. The Knuckler features an interesting piece of tech known as the Plunger Switch. The Plunger Switch is designed to give the player gentle feedback with each key press. No need to mash that key as the Plunger Switch technology allows the player to simply press a key with one gentle push. Other keyboards shown were the Meka series and the Challenger series, which look impressive.
Tt eSports also do gaming mouses. Their starter mouse is known as the Saphira. The Saphira sports a nice black finish with standard gaming mouse keys. It also features a T.P.G Gaming Optical Sensor with a max DPI of 3500, useful for those who take their gaming to a serious level. Speaking of professionals, the mouse for you guys is the Level 10 gaming mouse. Co-designed with the BMW Group, the Level 10 mouses feature Air-Through Ventilation, 3D Steering and Intelligent Software for customisation. It will come in different colours. The Level 10 gaming mouses are not available just yet, though.
The last set of items are headsets. Tt eSports do headsets for both gamers and those who work with audio visual material. For the gamers, the Shock series of headsets are perfect for you. There are different variations, including a series of headsets known as the Shock Spin HD. It features 7.1 CH surround sound quality, enlarged 50mm speakers and a plug and play microphone. Three colours are available for selection. For those who want to use it for work, the Dracco series is what you should be looking at. The top of the range in this set is the Dracco Signature series. Available in a few colours, the Dracco Signature series headsets feature a high performance 3.5mm to 6.5mm plug and even an aviation adapter. With that said, these Dracco headsets seem to be about looking cool rather than performance.
Check out our gallery below.