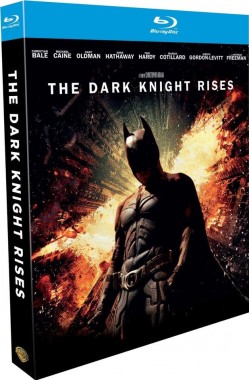 The conclusion to Christopher Nolan's epic Batman trilogy is set for release onto DVD and Blu-ray, letting you relive the whole trilogy again in marathon form. And you know that's so going to happen.
The Dark Knight Rises will be released onto Double Play (Blu-ray and DVD), as well as DVD separately, as well as On Demand and To Download. In addition to this release there will also be a 'Dark Knight Trilogy Limited Edition Giftset' which includes all three movies, special features, and a premium book exclusive to the set. Not special enough for you? Well Warner Bros is also releasing an Ultimate Collector's Edition of the Dark Knight trilogy in 2013.
Are you ready to return to Gotham to see Bruce Wayne pick up the cowl again once Bane threatens Gotham? With a very fetching Anne Hathaway as Catwoman, Joseph Gordon-Levitt as rookie cop John Blake, and Marion Cotillard as Miranda Tate, the movie is definitely worth a rewatch or ten.
The Dark Knight Rises will be available on Double Play for $49.95, and the 2 disc special edition DVD for $44.95. These, along with the Dark Knight Trilogy Giftset, will be released on November 28, 2012.
For more information on the release as it comes out keep tuned to Capsule Computers.