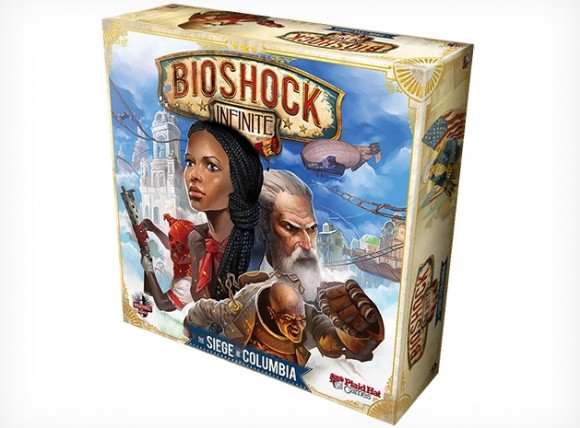 The BioShock Infinite board game that was alluded to with the reveal of a game piece, The Handyman, as part of the Premium and Ultimate Songbird editions of the game, has now been detailed. BioShock Infinite: The Siege of Columbia is being made by Plaid Hat Games, and although no official release date has been revealed, we can assume that it will release in conjuncture with the video game in late February.
Along with the game board, which is a given (duh!), The Siege of Columbia will include the common playing cards and dice, as well as 52 miniatures! Irrational Games were actually the ones who initiated talks of creating a board game with Plaid Hat Games. "Players will play as either the Founders or the Vox Populi and will build up an army to fight for control of Columbia by taking ground and completing important objectives," says Ken Levine, Infinite's Creative Director. "The whole while they'll be using their influence to sway various events that arise. They'll also find themselves having to deal with Booker and Elizabeth who are running around Columbia creating havoc." So, it will essentially be based around dealing with that same core conflict that underpins Infinite's video game storyline.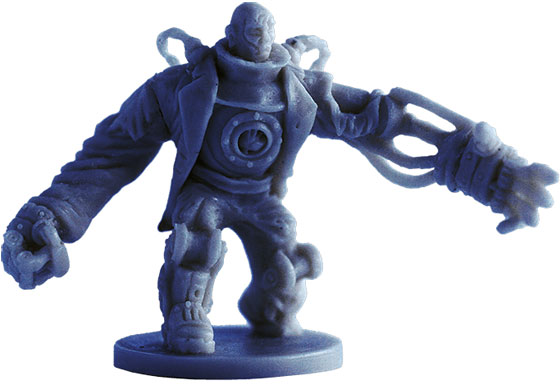 The HandyMan game piece!
The board game promises to provide opportunities for many twists and turns in the plot that the player may initiate. "In one game maybe the Founders captured Elizabeth but Booker took advantage of an assault by a Vox Populi airship on the Founder stronghold to get her back," says Dauch. "In another game maybe there is a heated battle for critical control of a district and Songbird shows up just in time to give the Founders the edge they needed to drive out the Vox Populi. In another game when the threat of a skyline collapse looms the Vox Populi may recklessly throw all of their resources into influencing it's collapse, cutting off the Founders from an assault that could have won them the game, and holding on for a victory." Personally, not having played a board game for many years, the idea of one with branching story paths is an enticing one.
If you are also excited to take part in The Siege of Columbia, you can get your first game piece, as previously mentioned, by pre-ordering the BioShock Infinite: Premium or Ultimate Songbird editions right now!
Source: Polygon