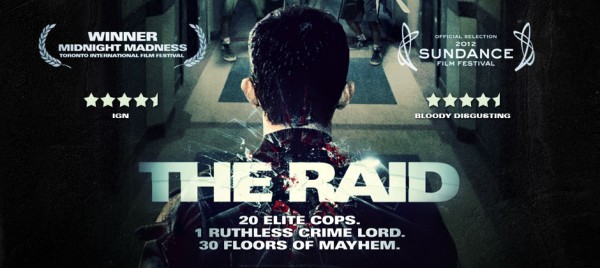 Thanks to Madman on the 15th of August, 2012. The Raid is this years most talked about action film from Indonesia. The film is set in an apartment complex in the slummy area of Jakarta and is a multi-story complex that is home to all sorts of gangsters and killers.
An elite swat team is sent in to take out a drug-lord locked in a safe house but the residents of the building are alerted to the teams attack in advance and is locked down from the bottom up. The swat team has to then fight their way to the top of the building to achieve their goals.
Proudly showcasing an unadulterated mix of impossible gunplay, frantic knife fighting and a masterful display of Silat – the indigenous Indonesian martial art – courtesy of up and coming action star, Iko Uwais, The Raid marks a triumphant return to the glorious, over the top action unleashed in the works of seminal Asian cinema filmmakers such as John Woo (The Killer, Hard Boiled) and Tsui Hark (Iron Monkey, Once Upon a Time in China).
The raid is releasing at $34.95 for the DvD and $39.95 for the Blu-Ray Disc.