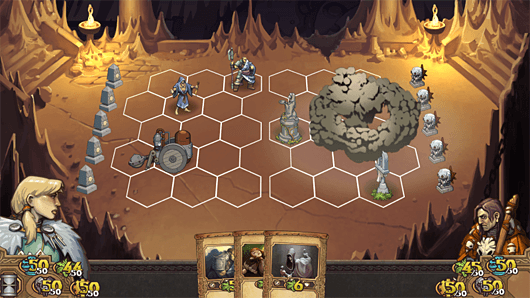 The next title handed down from the gods of Mojang. Scrolls lies somewhere between Magic the Gathering and Heroes of Might and Magic. One commands an army in turn based combat on a battlefield of hex's and effects the tide of battle with spells in the form of cards. Mojang has said that like Minecraft the game will be available to purchase in its open beta stage for a reduced price and fittingly purchasing the game also buys you a subscription to recieve a new scroll each week to add to your deck.
The game is set to include Multiplayer, Singleplayer vs AI, an auction house and a deckbuilder to build decks out of the many scrolls you will accrue as a young apprentice journeying through the world earning gold for winning battles.  Then the decision becomes  whether to spend your hard earned coin on gear or scrolls. Open beta is approaching fast and I for one can't wait. Just..
No creepers this time Mojang? Deal?