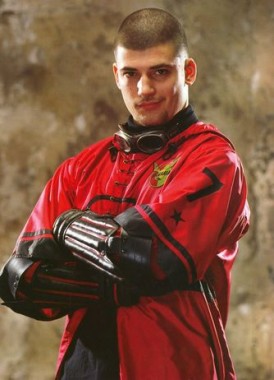 Made famous by playing Viktor Krum in Harry Potter and the Goblet of Fire, Stanislav Ianevski cuts an incredibly intimidating figure. And boy is he aware of it. He laughs off the fact that he's often mistaken for a bouncer, and that he intimidates people. Who wouldn't be intimidated by him? He looks like the sort of guy who could carry you like a small doll, with biceps as big as babies, but he's actually incredibly sweet, funny and loves jokingly flirting. I'm pretty sure a big part of that was due to the huge amount of swooning females that packed into the room for a chance to see him. One audience member actually told him he was hot and asked if he had a girlfriend, which he tactfully avoided answering.
When girls weren't trying to hit on him, the questions were focused on Harry Potter and stories from the fourth film in the series. He talked about how his favourite Triwizard tournament challenge was the maze, his favourite set was the dragon arena, and if he had attended Hogwarts he would have been a part of Slytherin house. His cheeky side came out when he started talking about stories from the set, like how he 'didn't' take anything from it, and a food fight that he and Tom Felton started at the Yule Ball when they were pretending to get drunk. It certainly sounds like an incredibly fun set to be involved in, and considering the fact that it took 11 months to film, that's definitely a good thing.
On acting, Ianevski said his inspiration and hero for acting was Jack Nicholson, while he would love to work again with any of the Harry Potter cast, or Johnny Depp. He seemed more grounded when he was talking about acting, his passion for it was clear, and hopefully he gets a chance to step onto the international stage once more.
For more Supanova coverage keep tuned to Capsule Computers and make sure to check out our interviews!