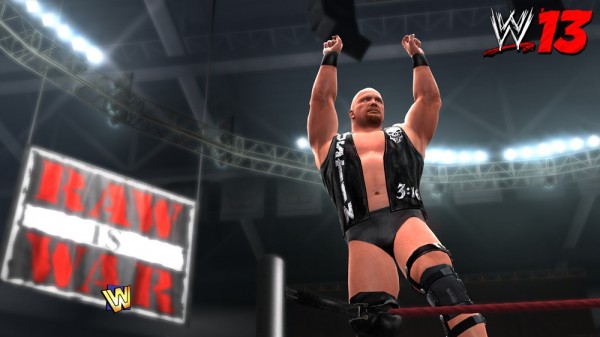 With no stall in sight at E3 one has to wonder when and where we get our next WWE13 fix. Details however do continue to trickle forth about this years game, for example the story mode this year is more of an attitude era mode where in we'll get to take on the roles of 8 attitude era superstars and play out their stories from way back when.
Weight detection is apparently being revisited so that situations are more accurately represented and as an extension of this super heavy weights have had their frames tweaked to better showcase their larger than life size.  Other details coming our way this year are the ability to control tag partners when tagging in story and universe mode, the ability to set how many finishers we start a match with (anywhere between  zero and infinity) and the return of free roaming backstage.
The most exciting addition revealed so far is that  of the OMG moment. OMG moments are those moments in WWE when your jaw hits the floor and you just stare in awe.  Like when: Shawn Michaels super-kicked Shelton Benjamin as he flew off the top rope, Randy Orton nailing Evan Bourne with the RKO mid Shooting Star Press or Brock Lesnar superplexing the Big Show only for the ring to collapse around them.
Moments like these will be available to use in actual matches this year, so rather than a finisher symbol appearing above your superstars head an OMG symbol will appear should you be in position to perform such a move. These moves will required specific circumstances, you won't for example; have Tyson Kidd superplexing Rey Mysterio and collapsing the ring, for that particular OMG moment super heavyweights will be required. This years game continues to entice and as more information comes out about WWE13 we'll smack it down for you right here.
and that's the bottom line… Cos CC said so!