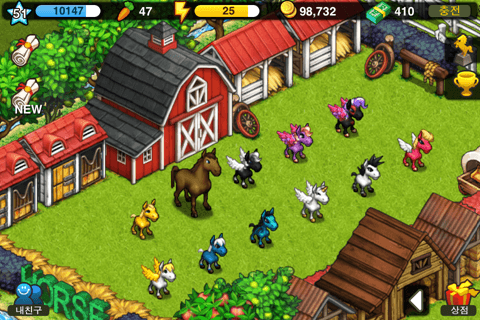 Fans of the Com2US games will be pleased to know that two of their games, Tiny Farms and Derby Days, have some new updates available to them. Each of the updates adds new content to each game that is sure to expand the gameplay and game time of each title.
First with Tiny Farms, players will be surprised to notice that there are a few new farm animals to choose from. Apparently the UI has also been improved, so there's something for you guys to enjoy as well.
Tiny Farm's newest update adds 3 new animals to players' collections: One new sheep, one chicken and one pig. And what's so great about them? They can TALK! Evolution is happening right on your Tiny Farm.

This is the first in a huge lineup of updates for Tiny Farm, which will see the collections expand to 5 animals per set. Along with these new chatty critters, the collection UI has been revamped as well.
Derby Days brings with it a whole plethora of new updates, including an increased level cap, new decorations, buildings, horses and more. Here's the full rundown –
Derby Days sees a TON of new additions! With a new max level of 150, new decorations and buildings, amazing new horses such as Hermes and Spring Lotus, tweaks for gameplay performance and more, this is the biggest update ever! Horses are now only hungry when training, a better betting system is poised for integration, mating systems are tightened for ease of use and better foal outcome, you don't need to spend energy harvesting buildings, and best of all: EARN IN-GAME CASH FOR 7 DAYS OF CONSECUTIVE PLAY!

Yep, we've heard the feedback and are making sure you want to give Derby Days another try. These tweaks make playing easier, IAP less aggressive, and make users and reviewers like you want to breed and trade fantastical, winning race horses!
Players will be wanting to update their games as soon as they can. Tiny Farm and Derby Days appear on both the Android and iPhone platforms.