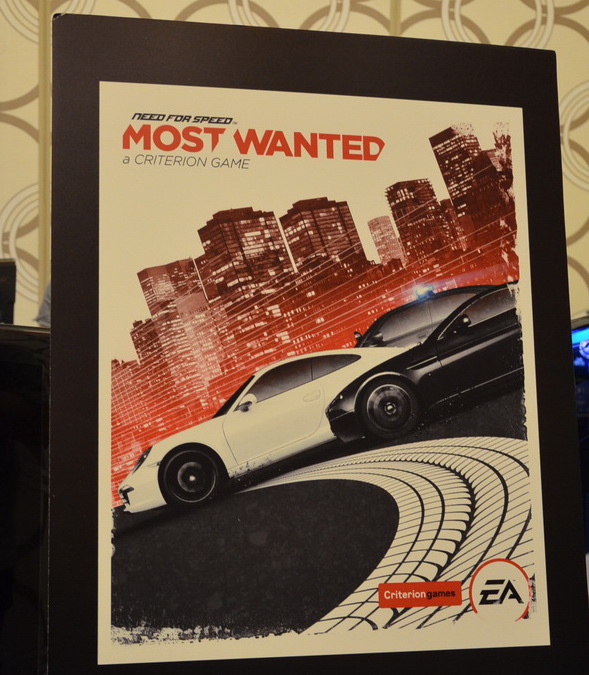 Need for Speed: Most Wanted is coming to mobile devices as well as consoles, just like many previous NFS games.  At E3 2012, I got a chance to take the Alpha iPhone version of the game out for a test run. The mobile versions of the game are being developed by a separate EA studio.
First off, this game looks fantastic. One of the first things that was pointed out to me was that the spoiler on the Porsche I was driving was literally animating like a real one would. In addition, the damage models were absolutely incredible, especially considering that this is a mobile game.  Admittedly, I was playing the game on a 40″ HDTV through an output cable, but I was nevertheless impressed by how good this game looked.
Gameplay in Most Wanted feels like it is probably very similar to the console versions.  The Producer of the game, Michael de Graff, said that his team has been working very closely with Criterion and this was evident as I raced the through the city.  I raced against 5 other AI cars, who were quite clever in their tactics to destroy me.
In addition, there were quite a few police following my car, trying to get me to stop. Luckily, I was able to make them wreck in spectacular fashion, very similar to a Burnout game.
The controls are very simple. Steering is very accurate, even-though I was using the gyroscope functions.  I had some trouble with over-correcting, but all in all, I was quite impressed with the accuracy of the controls.
Of course, Most Wanted will be able to interface with your friends. Multiplayer and leaderboard options were confirmed to be in the game.  However, it is unclear whether you'll need to use an EA network for accessing friends, or whether you can use Facebook and other social networks in the game.  When I asked whether Autolog would be in the game, the response was that "they are still working on it." However,  Hot Pursuit on mobile devices has had Autolog functions for quite some time now, so it is reasonable to conclude that Most Wanted will also have this feature.
Need for Speed: Most Wanted on mobile devices has been in development since last year and the production quality was evident in the demo I played.  I really hope you'll be able use Autolog in the game, and I hope there is someway to interface with the console versions of the game, but if not, this is still a great racing game that is on par with its PS3 and Xbox 360 console cousins, albeit in a much smaller package.