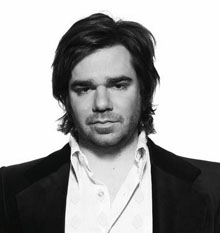 I've been playing the Worms Revolution beta, and having been required to sign an NDA beforehand meant I couldn't discuss the details, no matter how exciting. So I have to wait until Team 17 announce things before I can run my mouth.
One of the first and most exciting things I noticed was the vocal talents of Matt Berry narrating the action and telling you what to do. If his name isn't immediately familiar, you might remember him as the sleazy boss, Mr Reynholm, from The IT Crowd, or as half the comedy team behind Berry & Fulcher's Snuff Box.
Berry is perfectly cast: an overly-confident air of undeserved authority shines through his performance, bringing quite a lot of personality to a character who is never seen. He fits the zaniness of the Worm franchise to a tee, just check out the preview below to see him in action.
There's a lot of awesome in the Worms Revolution beta, but this was the hardest thing to keep to myself. I want to tell you more, but I shouldn't: I can sense Team 17's NDA ninjas outside my window. Just know this: it's gonna be amazing.