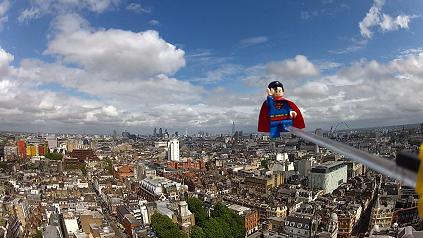 "Is it a bird? Is it a plane?" These are questions you will have no doubt heard as people spot Superman in the sky. But the question on everybody's lips when Superman took to the skies on this occasion was "Will he fall off?".
To celebrate the launch of Lego Batman 2: DC Super Heroes on June 22 (for the Xbox 360, PlayStation 3, Wii, Windows PC, as well as Nintendo DS, Nintendo 3DS, and PlayStation Vita) a Lego Superman Mini-figure was taken for a ride over London on an Remote-Controlled Helicopter.
The helicopter used required the same clearance as commercial airlines – which made for some fantastic views over the city of London – flying high above Hyde Park, Docklands, Primrose Hill and Soho.