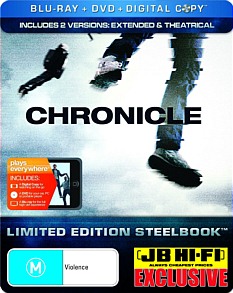 What would you do if you got super powers? Chronicle answers the question of just what could happen if a bunch of teenagers got super powers, and it isn't as heroic as the rest of the genre seems to think it is.
Chronicle is now out on Blu-ray and DVD, with an extended edition available on Blu-ray along with a tonne of extras. So if you love those extras, there is a whole bunch of stuff that comes along with the triple play pack. Along with an extended version of the movie on Blu-ray and a digital version of the movie, there is also the pre-viz versions of some scenes, the 'sizzle reel', or the pre-production test scene that the director used to get the studio interested, and deleted scenes.
We also got to talk with Simon Hansen, the special effects supervisor on the movie that also worked on District 9. Hansen's hand in Chronicle is pretty clear, given the awesome visual effects and the more tactile sense to them than usual. Hansen is a fan of innovation, and even made a new form of making people look like they were flying by being able to spin and rotate people. So make sure to check out all the awesome ways that the movie steers away from CGI and tries to use actual physical effects.
Pick up your copy of Chronicle now for $34.98 for the Triple Play exclusive JB Hi Fi version HERE, or $29.98 for the normal Triple Play version HERE. For the normal DVD version it is only $19.98 HERE.