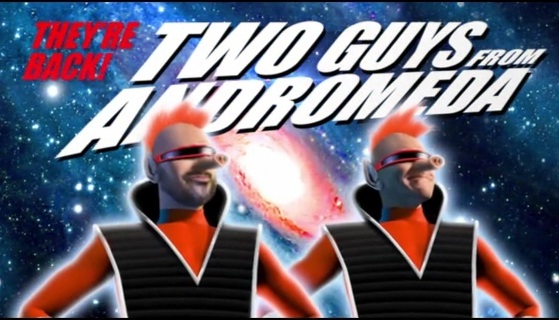 Have you heard? An old adventure game developer is using Kickstarter to fund a brand new point-and-click adventure game!
Tim who? Double what? No, I'm talking about the Two Guys From Andromeda, creators of the classic Space Quest series of the eighties and nineties.
In case you haven't donated to enough Kickstarter projects lately, Scott Murphy and Mark Crowe, the aforementioned Two Guys, have reunited and are asking for $500,000 before Tuesday June 12 to develop a new Space Quest game.
The guys are clearly passionate about the opportunity, and they already have a stellar cast of video game voice actors ready to participate: there's Gary Owens, narrator from some previous SQ games; Robert Clotworthy (Jim Raynor from StarCraft 1 & 2); Ellen McLaine (GlaDOS and the turrets from Portal 1 & 2, The Administrator from Team Fortress 2); John Patrick Lowrie (Sniper from TF2, Sword Control from Halo: Reach); and Rob Paulsen (Pinky & The Brain, Animaniacs, Teenage Mutant Ninja Turtles, Monkey Island).
At the time of writing, the project has already raised almost half of that amount, and with two more weeks to go, it's likely the target will be reached. So go help them out on Kickstarter, where there's a crazy amount of information on the project, as well as some rather generous pledge rewards.
And keep up to date with all things Space Quest at guysfromandromeda.com.