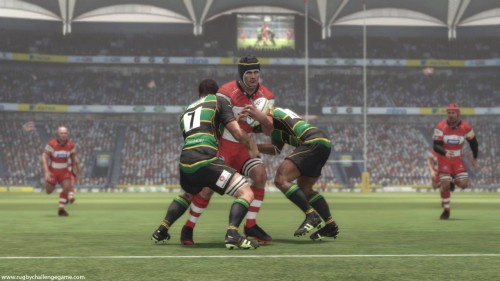 A release date for the Playstation Vita version of Rugby Challenge has been announced by Tru Blu Entertainment. The rugby union game will be released on June 27 for Europe, UK, South Africa, Australia and New Zealand. The game will feature full licensed teams at both club and national level, including the All Blacks (New Zealand, winners of the 2011 World Cup) and Wallabies (Australia, third place at 2011 World Cup), who are considered the top two sides of rugby union today.
The game will feature multiple gameplay modes, online 1v1 matches and will utilise the touch screen and touch pad for some points in the rugby match, such as lineouts and conversions. Commentary will come from Grant Nisbett and former All Blacks' halfback Justin Marshall, both with experience behind the mic. As for the different offline modes, players can expect an exhibition mode, tournament mode and multi-year career mode, involving club and national teams.
Just like the console version, the game will be released under different names depending on which country you live in. For those in Australia, the game will be named Wallabies Rugby Challenge. In New Zealand, it will be called Jonah Lomu Rugby Challenge, named after the legendary All Black. For the rest of the release regions, it will be simple called Rugby Challenge.