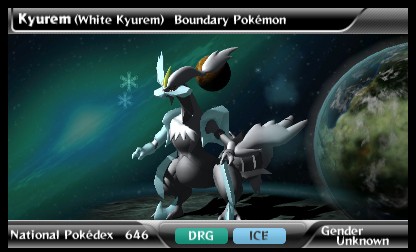 You may remember that a few Pokémon based 3DS eShop apps/games were going to be released in Japan sometime in the near future. Today it has been confirmed that these very same eShop apps/games are going to be made available in North America as well.
The two apps/games are called Pokémon Dream Radar and Pokédex 3D Pro. They will be made available later this fall which will place their release around the same time as Pokémon Black and White Version 2. The Pokémon Dream Radar will make use of the 3DS' augmented reality system by allowing players to catch Pokémon in their own living room while the Pokédex 3D Pro is an upgraded version of the free Pokédex app which was released last year.
Unlike the free version, Pokédex 3D Pro will feature over 600 different Pokémon and a bunch of other information. This is good for those who have long-since filled up their free Pokédex and are looking for even more Pokémon to tide themselves over until Black and White Version 2 are released. Interestingly enough no price was announced for either of these apps yet, so expect to see a price announcement in the coming months.
Update: It appears that Australia will also be receiving these apps sometime in the Spring of 2012, though with Spring nearly over it will be interesting to see when it will actually be released.