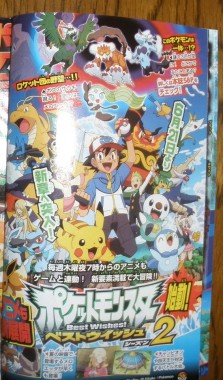 Hot off the heels of the new details surrounding the Pokemon Black and White 2 video games focusing around a World Pokemon Tournament, the premiere date and details for the second season of the anime series Pokemon Black and White Season 2 (Pocket Monsters: Best Wishes Season 2 in Japan) has come to light thanks to CoroCoro magazine.
The new season will premiere on the 21st of June, 2012 and will feature a story similar to the upcoming games. The first ever World Pokemon Tournament is held and many of the world's greatest trainers are summoned to compete, thus bringing back many of fan's favourite characters such as Brock, Misty, Giovanni, Cynthia, Gary Oak, Volkner, Steven and Lance.
Also like the games there will be a new story arc focusing on a new Team Rocket plot with Giovanni taking the spotlight. Also returning to the series is Dawn, however it is not known to what extent her return will be.
What do you think of these classic Pokemon characters making their anime returns? Let us know in the comments section below.