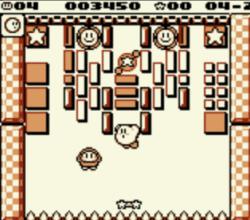 Yep, it's that time again, folks. Kirby has yet again hit the eShop, but this time in a fun-loving ball form. The Game Boy Classic, Kirby's Block Ball is now available on the Virtual Console, and offers a fun, refreshing take on breakout with a good number of the familiar foes from the series in tow for just $2.99.
Next up is a DSiWare title some may be familiar with due to a similar offering from the retail DS selection, Chronicles of Vampires: The Awakening. This $4.99 hidden object mystery title is the final installment in the Chronicles of Vampires series, and offers 200 items to find in 20 different locations. As we have mentioned before, Rayman Origins is also on the way to the 3DS in the next coming month, and those who want to get their unattached feet wet can do so now with the demo also going live for the eShop.
Finally, Nintendo video is ready to get us hyped for Men in Black 3, with a nice little 3D trailer that is Fresh Prince approved.