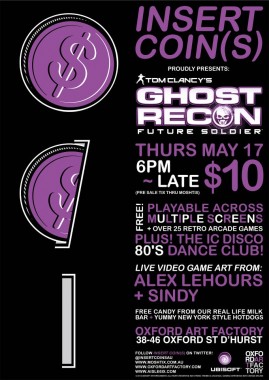 Keen to have a sneak peek at Ghost Recon: Future Soldier? Well, if you're a Sydneysider then you're in luck! Awesome gaming event, Insert Coin(s) is having a Ghost Recon: Future Soldier launch party on May 17, a week ahead of the release date. The game will be playable across multiple screens, so there won't have to be any fighting with others to try and get a go at some Future Soldier goodness.
Insert Coin(s) is an event that pays tribute to old school arcade games, good music, art and geek culture. Oh and it previews awesome games like Ghost Recon. It's just $10 for entrance to the event, which is quite value considering the awesomeness that is inside the event. Plus, there is a milk bar (which serves alcoholic milkshakes, spiders and free candy) and a New-York style dog vendor.
Plus, if you dress up in military costume you have a chance to win exclusive prizes from Ubisoft, so get yourself kitted up and grab some free swag! Plus, if you get the most likes on the Insert Coin(s) Facebook album by the end of the week then you win FREE ENTRY for the next event for you and four of your friends.
Whether you're a hipster, a hipster geek, or just a plain arcade gamer geek, this is definitely a fantastic event for you. The Ghost Recon: Future Soldier launch event is on May 17 at Oxford Art Factory with the doors opening at 6pm for just $10 at the door.
For more information on the event visit the site HERE and the Facebook page HERE