Incredibly popular casual games publisher, PopCap Games, has released a major update for Plants vs. Zombies HD for the iPad and Plants vs. Zombies for the iPhone and iTouch. The updates will include additional content, action and some more challenges for iOS players.
PopCap's franchise business director Tony Leamer had this to say about the update:
"These exciting Plants vs. Zombies updates deliver all the extras that players have been waiting for, and more. Zen Garden looks amazing on the iPad and players will have a blast digging in, tending to their plants and experimenting with great new ways to take out zombies."
Included features that are in the HD Update for the iPad version of Plants vs. Zombies are three new game modes (Zen Garden, Vasebreaker Endless, and I, Zombie Endless), four new mini-games (Slot Machine, Zombiquarium, Portal Combat and Beghouled Twist), Game Center leaderboards, and new Game Center achievements. Some of these are for free in the new update, while others are available as an in-app purchase.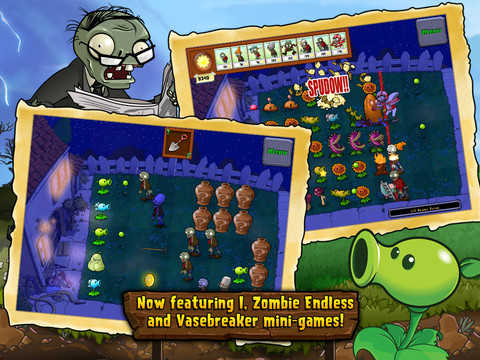 As for the iPhone and iTouch updated versions of Plants vs. Zombies, they've added Vasebreaker game mode and a leaderboard, and new Game Center achievements.
The update is available NOW, for those who already have the game you just have to download the update. For those of you who have yet to purchase the game you can buy the iPhone and iTouch version HERE, or the HD iPad version HERE.