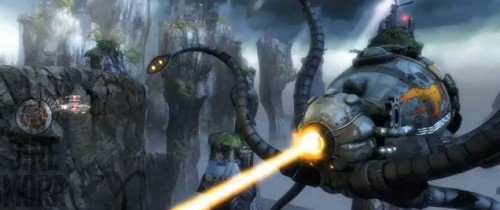 Grasshopper Manufacture and Digital Reality are working on a shmup title to be released as a downloadable title on Xbox Live Arcade, called Sine Mora. Grasshopper Manufacture recently worked on the outrageous and brilliant Shadows of the Damned, and they are hoping that this title will reinvent the shmup genre and take it to the next level.
The game is being billed as a diesalpunk shooter that will mix vintage shooter conventions with modern visual presentation. The gameplay system will feature some new ideas, in particular the boss battles are going to be unlike anything seen in a shmup title, and are being designed and directed by Mahiro Maeda, known for his work on Blue Submarine, Final Fantasy: Unlimited, Animatrix, and the animated sequence of Kill Bill Vol. 1, and has also done artwork for Neon Genesis Evangelion.
The music of the game is being done by none other than Akira Yamora, who is well known for his musical work for the Silent Hill series and more recently shadows of the Damned.
Sine Mora is scheduled for a Q1 2012 release.