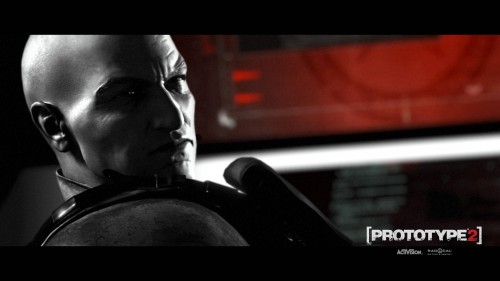 Two more characters have been revealed for Prototype 2. This time, we are introduced to Doctor Koenig, a Gentek scientist, and Colonel Rooks, the elite Blackwatch officer in charge of the NYZ operation. Both of these characters are involved with both Alex Mercer and Sgt. James Heller's lives.
First up, here is a bit more on Dr Koeing:
Doctor Koenig is the chief virologist at Gentek.  He oversees every single major Gentek project and is privy to the darkest of secrets within all of Gentek's operations.

Koenig is also a tottering, whiney old fool with a dose of mad scientist thrown in for good measure.

When Heller is discovered to have been infected by Mercer, Koenig's role in the grand scheme of Heller's epic journey begins to unfold.
Here is the bio for our second character for this week, Colonel Rooks:
Col. Rooks is the elite Blackwatch officer in charge of the NYZ operation.  He is Heller's main Blackwatch adversary, though he is not in charge of Blackwatch/Gentek.

Rooks is tough and serious, but also quick-minded and enthusiastic.  He occasionally seems thrilled about the positive developments in his operations and enraged about the negative ones.  This has a way of making him appear younger and more impulsive than General Randall.  His "weakness" — his family — makes him seem more human and "real" than every other Blackwatch ever encountered.  That said, he is still thoroughly committed to Blackwatch's cause; in fact, his commitment to the concept of family is merely his interpretation of Blackwatch's mission.

Like all loyal Blackwatch soldiers, Rooks believes that Blackwatch is the only line of defense against a biological attack on the United States.  Because of his unwavering loyalty and commitment to Blackwatch's mission, Rooks was assigned to protect NYZ's three quarantine zones and to facilitate various Blackwatch and Gentek initiatives that took advantage of the quarantine.  In this role, he oversaw various projects that attempted to weaponize the viral monsters known to terrorize the human populace.
Expect both Dr Koenig and Col. Rooks to be involved in the Heller and Mercer battle when Prototype 2 is released on April 24 for the Playstation 3, Xbox 360 and PC. As with these bios, check out some character shots below. You can also check out bios for Sgt. James Heller and Alex Mercer, as well as Father Guerra and Dana Mercer, allies of our main characters.